Advertentiegroep: definitie
Een advertentiegroep bevat een of meer advertenties die een gezamenlijke reeks zoekwoorden targeten.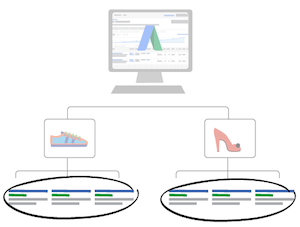 Elke campagne bestaat uit één of meer advertentiegroepen.
Gebruik advertentiegroepen om uw advertenties in te delen op basis van een gemeenschappelijk thema. Maak bijvoorbeeld afzonderlijke advertentiegroepen op basis van de verschillende typen producten of services die u aanbiedt. 
Hoe accounts zijn gestructureerd
Hoe advertentiegroepen werken
Was dit artikel nuttig?
Hoe kunnen we dit verbeteren?