Showing your ads on Google Maps
Reach customers who are searching for businesses like yours on Google Maps.
Your Search ads can appear on both the desktop and mobile versions of Google Maps.
If you run a local business, advertising on Google Maps is a powerful way to attract nearby customers. Ads on Google Maps make it easy for people to contact, find, and make their way to you.
Ads on Google Maps
Google Maps shows Search ads in two places: within info cards beneath the search box, and on the map. On-map ads appear with a yellow "Ad" icon and text from your search ad.
Your Search ads need location extensions to appear directly on the map. On-map Search ads show your business name and the first line of text from your Search ad. This ad text may be shortened in some cases.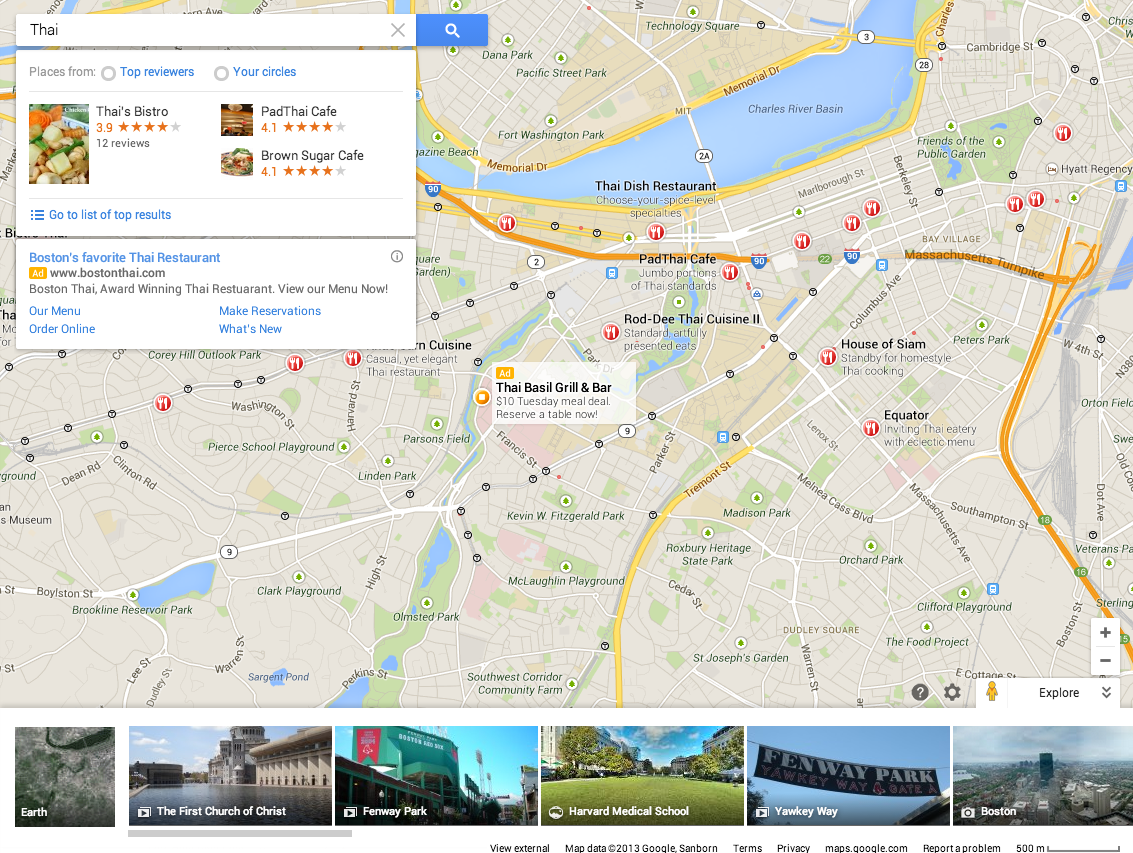 If your ads have location extensions, clicking on them (either on the map or under the search box) creates an expanded version of your ad (which appears under the search box). This expansion shows more details about your business, as well as a directions button.
Ads on Google Maps for Mobile
When someone performs a search in Google Maps for Mobile, Search ads with location extensions are eligible to appear at the bottom of the screen (on phones) or under the search box (on tablets), along with a yellow marker on the map. These ads show your headline, destination URL, and description, along with a directions button.
People can tap or swipe upward on the ad to view more information about your business, like your address and phone number. They'll still see the directions button, along with buttons to save and share your location.
| | |
| --- | --- |
| | |
| Ad on Google Maps for Mobile | Expanded ad on Google Maps for Mobile |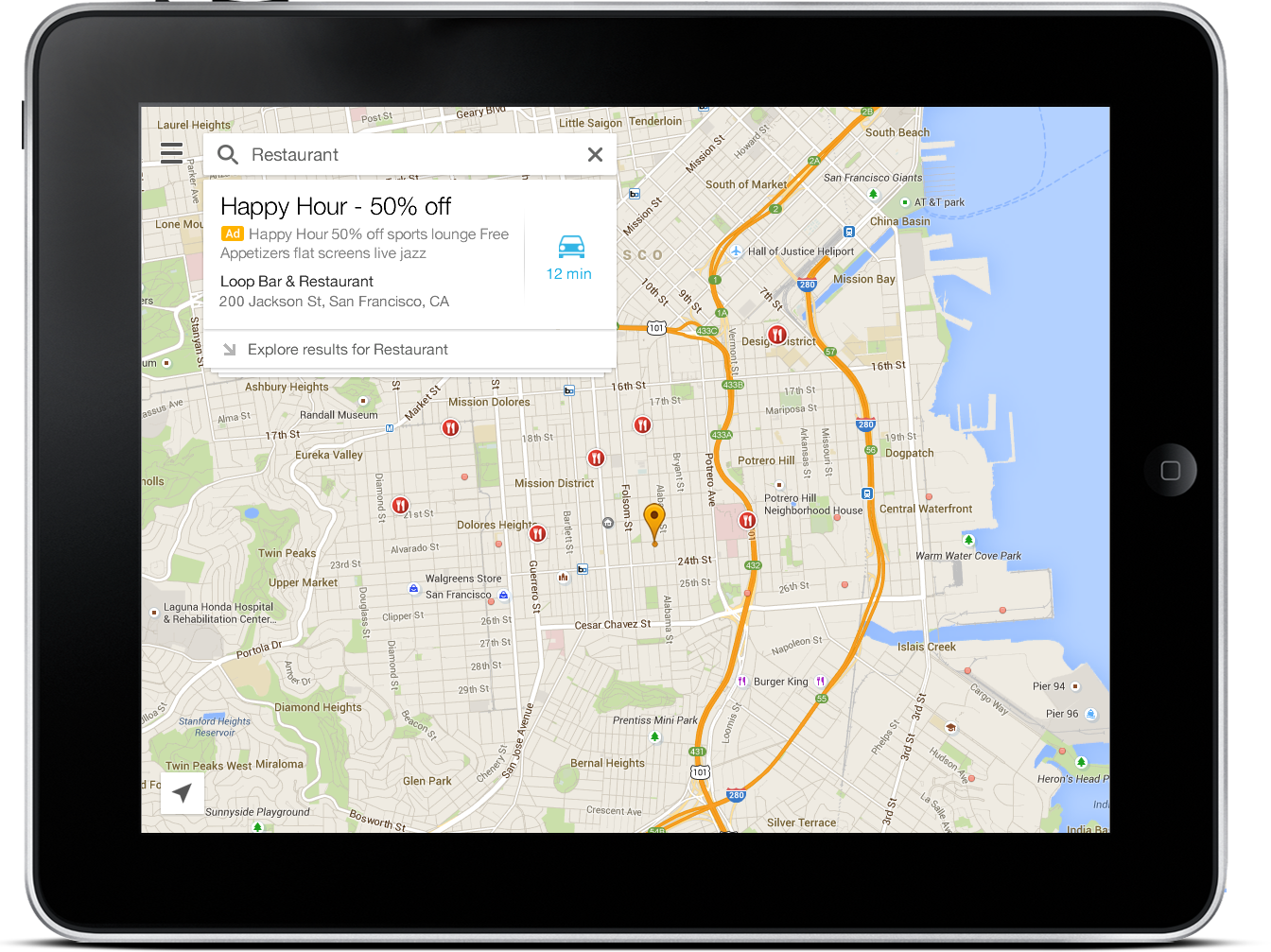 Ad on Google Maps for Mobile (tablet)
Ad formats on classic Google Maps
A small number of Google Maps users who aren't using its latest desktop version will have a different ads experience. In classic Google Maps, ads with location extensions can appear with a blue map marker. If people click this marker, additional information about the business appears on the map.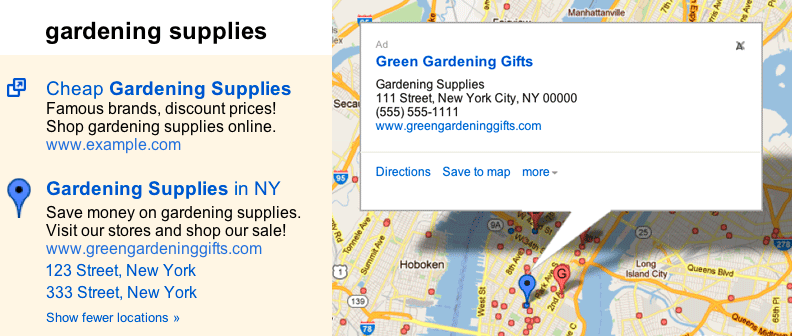 In the mobile version of classic Maps, the ad shows your business name, but doesn't include text from your Search ad.
Eligibility
Set up location extensions to make your ads eligible to appear as on-map ads or on Google Maps for Mobile. You don't need location extensions for your Search ads to appear within info cards, but you're likely to have more impressions from Maps if you add them.
You'll also need to opt in to advertise with our search partners (the default setting) in your campaign network settings. For ads to appear on Maps, they'll need a high Quality Score, be very relevant to the Maps user's search, and be targeted to the geographic area of the search. Learn more about location targeting.
Pricing
For ads on Maps, you'll be charged a standard cost-per-click (CPC) for these types of clicks:
Headline clicks
Sitelinks clicks
Get location detail clicks
Get direction clicks
Mobile clicks-to-call clicks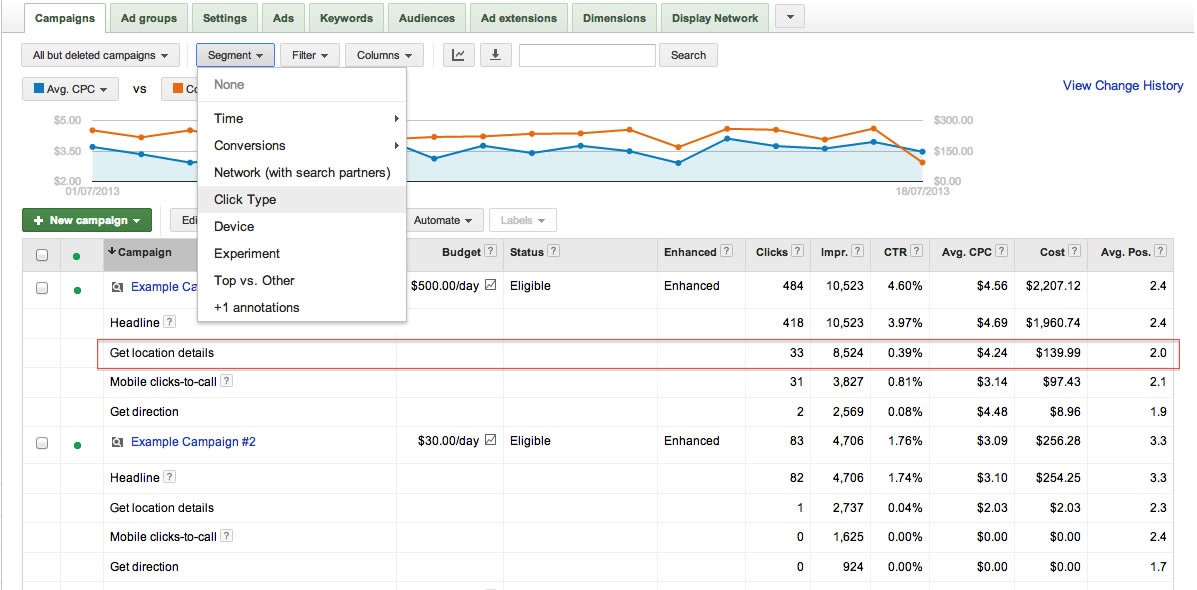 Example "Get location details" data in AdWords report
AdWords records "get location details" clicks when people click to expand ads with location extensions (in the desktop version of Maps), or if they swipe upward or tap on the Maps ad in Google Maps for Mobile.
You'll be charged a maximum of two clicks per impression. If someone clicks on your on-map ad, for example (a "get location details" click), then clicks on the directions button (a "get direction" click), then clicks on your ad headline (a "headline" click), you won't be charged for the "headline" click.
To review performance of these click types, select Segment > Click Type under the Campaigns, Ad groups, Ads, or Keywords tabs.
Free clicks
You aren't charged for some clicks, which are recorded as "free clicks" in AdWords. These clicks include:
Save Location clicks
Share Location clicks
Navigation (using navigation after the directions button is clicked)
Looking at the free clicks on your Maps ads can give you insight into how customers interact with you. To view your free clicks, go to the Dimensions tab in AdWords and select View > Free clicks.