Dear Adsense Team,
I got mail to change my payment method from western Union.then i changed my payment method to to Bank....So i provide all information what adsense needed from me.and one 21st April i get payment Receipt from Google with payment method to bank and with payment Number:GG101SN4OL .and then i get mail from adsense on 26th April that (your payment has now been processed. Hence request you to please follow up with your bank).
now when i went to my then they say we don,t have get any information or received any payment from google or adsense yet.then i show them the Payment Receipt which i got on 21st from google ....but my bank have no information regarding this payment.....and my bank told me to provide the bank information from which i am getting payment from ? they told me to tell the Bank Account Number from which i got my payment from google.
Please find the Receipt image and email from Google in the file attached
Kindly solve my issue .....
thanks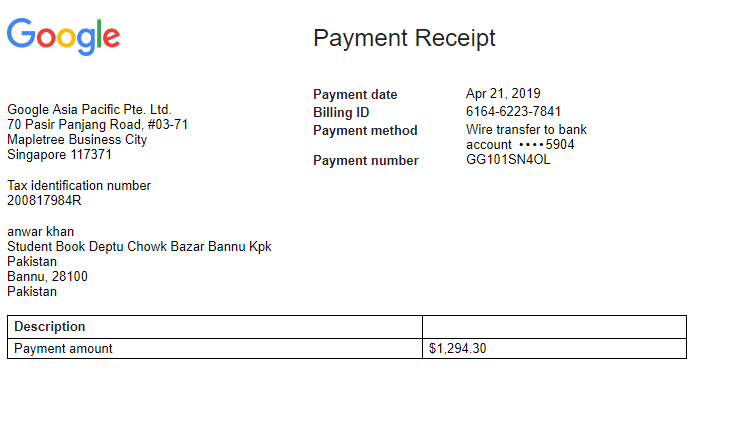 This question is locked and replying has been disabled.
This will remove the reply from the Answers section.
Notifications are off
Your notifications are currently off and you won't receive subscription updates. To turn them on, go to Notifications preferences on your Profile page.
Report abuse
Google takes abuse of its services very seriously. We're committed to dealing with such abuse according to the laws in your country of residence. When you submit a report, we'll investigate it and take the appropriate action. We'll get back to you only if we require additional details or have more information to share.
Go to the Legal Help page to request content changes for legal reasons.