Want advanced Google Workspace features for your business?
On this page
Add files to Drive
Create a new file from Drive
Click New and choose an option to create a Google file or a folder in Drive.
Upload files or folders to Drive
If you're using the latest Chrome Browser or Firefox, you can drag files or folders from your computer into a Drive folder. Or, you can click New
File upload or Folder upload and choose the file or folder you want to upload.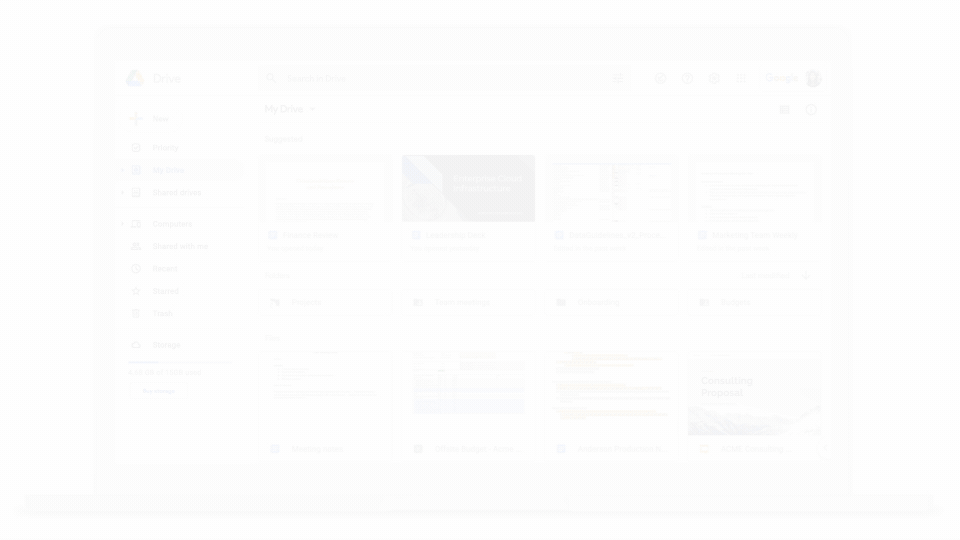 Upload a file with the same name
If you upload a file with the same name, Google Drive will upload the file as a revision of the file already in Google Drive.
To keep both files:
On your computer, go to drive.google.com.
Upload a file.
Click Keep as separate file.
Open files from Drive
Once your files sync, you can access them from any device. Double-click the file you want to open.
Learn more at the Drive Help Center. To learn about syncing, see Tips to access your files quickly.
Move files into Drive folders
Select the file.
Click More Move to .
Select the folder and click Move or Move here.
You can also drag files and folders to a folder in My Drive on the left.
Delete files in Drive
To remove a file from your Drive, put it in your trash. The file will stay in your trash for 30 days before being automatically deleted. When you put a file in the trash:
If you own the file, people you've shared it with can make a copy. Learn how to permanently delete a file.
If you don't own the file, removing the file from your Drive only removes it for you.
Delete a file
On your computer, go to drive.google.com.
Click a file.
Click Remove .
Restore a file
On your computer, go to drive.google.com.
On the left, click Trash.
Click the file you want to restore.
At the top, click Restore .

Tip: You can sort your trashed files by trashed date to find the oldest or newest files trashed.

You can find restored files in their original location. If the original location no longer exists, look in "My Drive."
Learn more at the Drive Help Center
Search for files in Drive
On your computer, go to https://drive.google.com.
(Optional) To narrow your search, use these options:

Type: Search by file type
People: Search by people associated with the file, such as who the file is shared with
Modified: Search by the date a file was last modified
Location: Search in a specific folder

In the search box, type a word or phrase. Suggestions appear as you type. To see more search options, click Advanced search.
Learn more at the Drive Help Center
Back to top

Google, Google Workspace, and related marks and logos are trademarks of Google LLC. All other company and product names are trademarks of the companies with which they are associated.