Turn on Groups for Business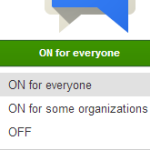 If you turn on the Groups for Business service, your users can manage their group memberships, view group discussion archives, and optionally create their own groups.
How to turn on Groups for Business
You can make Groups for Business available to your users by turning it on in your Admin console. You can turn the service on for everyone or only for people in a particular organizational unit.
After you turn on Groups for Business, your existing groups become visible in your corporate Groups directory (it may take up to 6 hours for them to appear). Your existing groups also receive default access and other settings, depending on their current settings and when the groups were created. Learn more
What to do next
After you've turned on Groups for Business you can:
Set sharing options to specify whether users can create their own groups, allow their groups to receive external messages, or add external members, and more.
Create new groups for your organization and allow your users to communicate and collaborate with groups of people they frequently contact.