Currently, all creators with over 1,000 subscribers see their subscriber counts displayed differently in different places across YouTube desktop and mobile apps. In some cases, the subscriber count is abbreviated (e.g., 133k) and in other places we display the full count (e.g., 133,017).
To create more consistency everywhere that we publicly display subscriber counts, starting in August 2019, we'll begin showing the abbreviated subscriber number across all public YouTube surfaces. Third parties that use YouTube's API Services will also access the same public facing counts you see on YouTube. Creators will still be able to see their exact number of subscribers in YouTube Studio.

So what exactly will this look like? For channels with fewer than 1,000 subscribers, the exact (non-abbreviated) subscriber count will still be shown. Once your channel passes the 1000 subscriber milestone, we will begin to abbreviate your public subscriber numbers on a sliding scale.

Here are a few examples:

If a channel has 4,227 subscribers, the public subscriber count will read "4.2k" until the channel reaches 4,300.



If a channel has 133,017 subscribers, the public subscriber count will read "133K" until the channel reaches 134,000.



If a channel has 51,389,232, the public subscriber count will read "51M" until the channel reaches 52,000,000.


We know subscriber counts are extremely important for creators and fans alike, so we wanted to give everyone a heads up a few months in advance of this change! We'll share more specifics with creators as we get closer to the August 2019 date.


If you have any other questions not covered by this post, please drop them in the comments below.
– Jordan (TeamYouTube)
Community content may not be verified or up-to-date.
Learn more.
Recommended Answer
Recommended Answers (

1

)
Recommended Answer
[Update: 8/29/2019]
We're gradually rolling out abbreviated public subscriber counts throughout September.
Reminder: The change will take place across YouTube and the public YouTube Data API Service. Creators will continue to see their full subscriber counts privately in YouTube Studio and YouTube Analytics.


We heard a lot of feedback from the community following our announcement in May and wanted to share more about why we're making the change. Beyond creating more consistency, ​this addresses creator concerns about ​stress and ​wellbeing, specifically around tracking public subscriber counts in real time.​ ​We hope this helps all creators focus on telling their story, and​ experience less pressure​ about the numbers.


Creators and Developers also asked for more details about how the YouTube Data API Service would change, so here's more info:

Public subscriber counts accessible via the public YouTube Data API Service will be abbreviated for subscriber counts greater than 1000 subscribers.


For example, a channel with 123,456,789 subs will return 123 000 000 via the YouTube Data API Service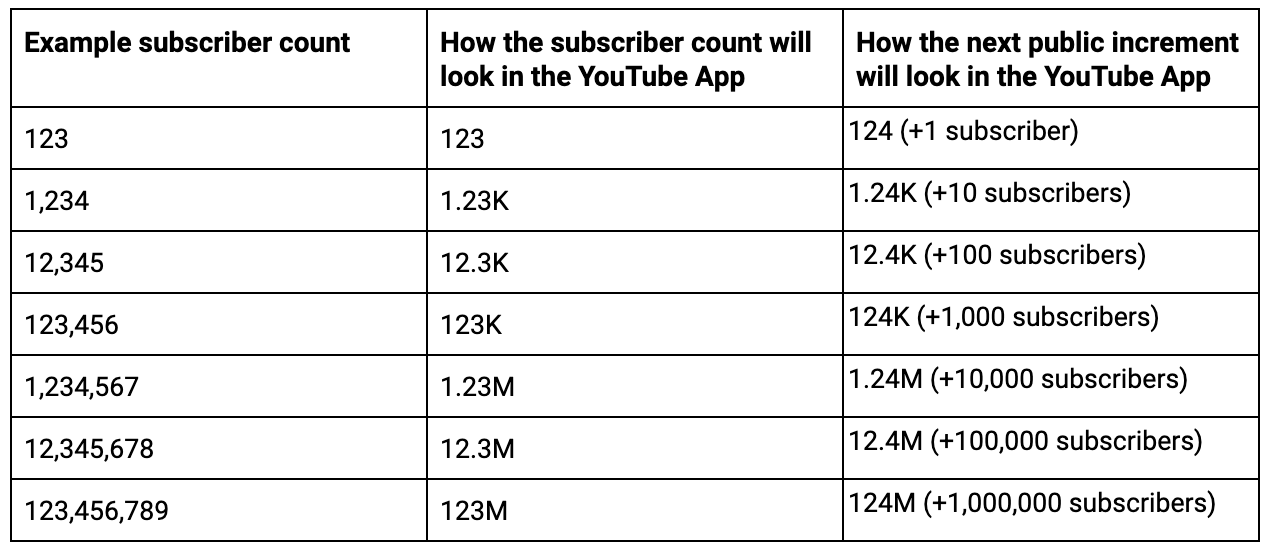 While we know not everyone will agree with this update, we hope it's a positive step for the community, both those viewing and creating content.