Given the effects of COVID-19 on the live events landscape, tickets for events in the upcoming months may not be displayed on your channel. The ticketing features are still active on your channel, but events are less likely to be held due to the recent pandemic. Doing so will help to avoid disruption for our users. If you're opted into merch features, your merch shelf will be displayed if there are no future events to show.
If you're a music artist on YouTube, you may be eligible to feature your upcoming concert listings on your video watch pages and YouTube Music. This feature will be automatically enabled on eligible artist channels. Viewers watching official music content from your YouTube channel will see a shelf with your tour dates below the video and on YouTube Music artist pages. The shelf will show the event that is geographically closest to the viewer and more available event dates.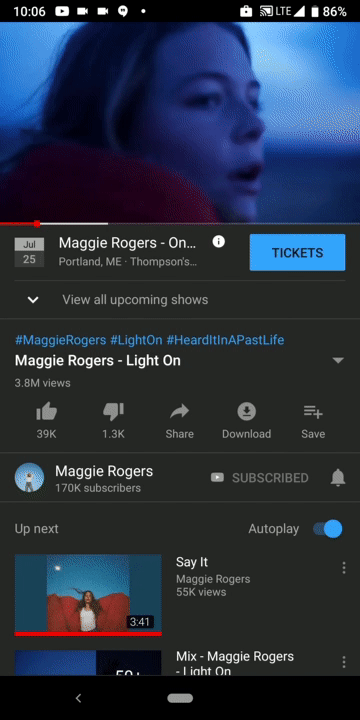 Eligibility
To be eligible for this feature, you need to:
Have a YouTube Official Artist Channel
Have a music attraction ID with any of the supported ticketers (listed below)
Have upcoming concerts in any of the supported countries/regions (listed below)
Supported Ticketers
AXS
Eventbrite
Ticketmaster
SeeTickets
Supported Countries/Regions
Australia
Canada
Ireland
New Zealand
United Kingdom
United States
Opt in and opt out
We automatically opt-in for ticketing all eligible artist channels. If you think you're eligible, contact your YouTube Partner Manager or send feedback.
To opt out and disable ticketing on your artist channel:
In YouTube Studio
Sign in to YouTube Studio.
In the left-hand menu, click Concerts.
You can pause ticketing by toggling the switch next to "Sell tickets through YouTube" in the top right corner of the page. Should you change your mind, you can return to this switch to turn ticketing back on.
Event metrics
For the event tickets you promoted on YouTube, you'll be able to see ticket revenue, the number of tickets you've sold, whether you're sold out, and the cities you've sold the tickets in by following these steps:
In YouTube Studio
Sign in to YouTube Studio.
In the left-hand menu, click Concerts.