Reels for creators
Reels are short, mobile-only videos that allow you to connect with your audience more casually and on the go. They are currently in beta release.
Create a Reel
Sign in to YouTube and tap the camera .
Tap Reel .
To record, you can hold the capture button or you can just tap the capture button to start and tap again to stop the recording.
If you'd like to edit the video, you can:

Save to your camera roll
Trim
Add music
Add filters
Add text
Add stickers
Add video links

Tap Send to post your Reel.
You can post the video to the "Today" Reel (videos expire after 24 hours) or create a new custom Reel with videos that only disappear if you delete them. You can have more than one custom Reel.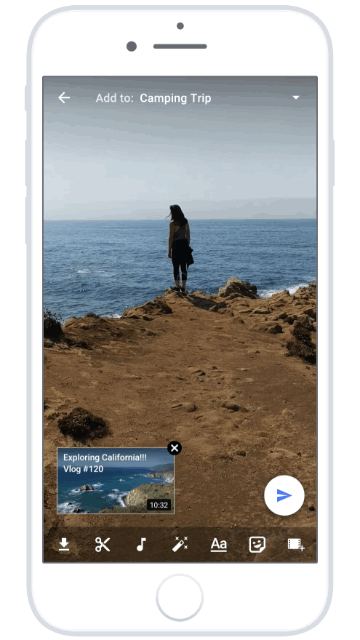 As the creator of the Reel, you'll see the number of views on each video at the top of the player. Only you can see this. Viewers will see your Reels at the top of their Subscriptions feed and in the new Reels tab on your channel.
Delete a video within a Reel
Tap the Reel to play it.
Tap the player to navigate to the video you'd like to delete.
Tap the menu .
Tap Delete.
Delete an entire Reel
Sign in to YouTube and navigate to your channel.
On your channel, go to the Reels tab.
Select the menu icon on the Reel you'd like to delete.
Tap Delete.