YouTube stories for creators
Stories are short, 15 second, mobile-only videos that allow you to connect with your audience more casually and on the go. They are currently in beta release.
Create a story
Sign in to YouTube and tap the camera .
Tap Story .
To record, you can hold the capture button or you can just tap the capture button to start and tap again to stop the recording. You can also select a video from your mobile device. Tap the effects button to apply an effect while you are recording.
If you'd like to edit the video, you can:

Save to your camera roll
Trim
Add music
Add filters
Add text
Add stickers
Add video links

Tap Send to post your story.
You can post the video to the "Today" story (videos expire after 24 hours) or create a new custom story with videos that only disappear if you delete them.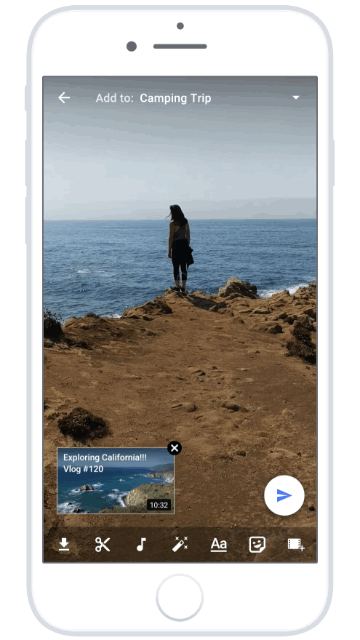 As the creator of the story, you'll see the number of views on each video at the top of the player as well as the total number of views across all videos in a story in the Stories tab on your channel page. Only you can see these viewership numbers.
Delete a video within a story
Tap the story to play it.
Tap the player to navigate to the video you'd like to delete.
Tap the menu .
Tap Delete.
Delete an entire story
Sign in to YouTube and navigate to your channel.
On your channel, go to the Stories tab.
Select the menu icon on the story you'd like to delete.
Tap Delete.
Viewing stories
Viewers who are subscribed to you will see your Stories at the top of their Subscriptions feed and in the new Stories tab on your channel. We are also experimenting with showing Stories on Home to viewers who may be interested in your stories. If a viewer who is not subscribed to your channel is watching your story, they can subscribe to your channel at any time during the story by clicking on the "Subscribe" button in the videos.
Viewers can also dismiss a story they're not interested, by tapping the three-dot menu next to the story and selecting "Not interested." You can view your own Stories by navigating to the Stories tab of your channel page in the YouTube app. Your most recent story will also be on the top row of your Subscriptions feed.