The Audience tab in YouTube Analytics offers a deep dive into your viewer base. From these charts, you can learn about who's watching, how often they come to your channel, and where they're coming from. Knowing your audience can help you plan your content strategy for a more engaged audience.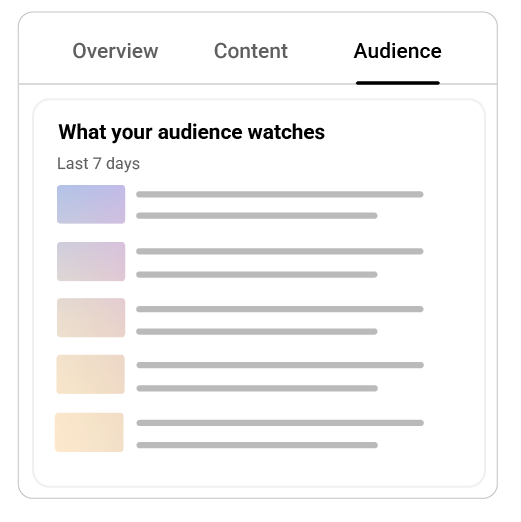 What your audience watches: Your audience's viewing activity outside your channel.
Within the Audience tab, you can find info about what content your viewers are watching. Based on this info, you can:
See if there is a pattern in the kinds of videos your audience is watching.

Pay attention to the thumbnails and titles of these videos. Is there a theme in what gets your audience's attention?

Consider topics you can explore based on what your viewers watch.
Look for opportunities for collaborations among the channels your audience is engaging with.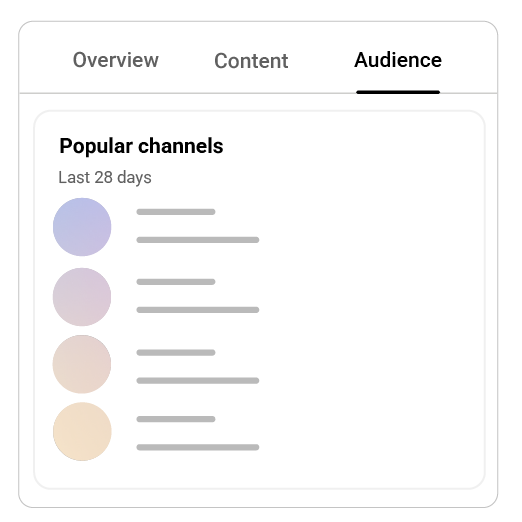 Popular channels: Your audience's viewing activity across other channels on YouTube.

Actions you can take:
In analytics, try creating groups of similar videos and see how they compare in your watch time report.
If certain types of videos regularly get many views, you might consider creating a similar series.

When your viewers are on YouTube: Your audience's online activity across your channel and all of YouTube.

Formats your viewers watch on YouTube across videos, live streams and Shorts.
Get a sense of the formats your audience is watching with this report. You can use this to understand your audiences' watch patterns and to help you develop your content strategy. If you've been looking to try something new with your content, this report can help you determine your audience's likelihood to engage with other formats. Remember that each format has its own appeal, best practices, and value to you as a creator.
When you do choose to experiment with a new format:
Do some research about how to get started with creator tips for that format
Think about how the new format fits in your content strategy to grow your audience and build community
We recommend
Zoom out: It's easier to get a sense for content performance when comparing your video against others over a longer time period. Trends can be hot for a few days and then fall. Try expanding the date range from 28 days to 90 days to see how that changes your perspective on recent performance.
Next: check out tips on how to make money on YouTube