Eligible creators can invite a guest to live stream with them. Using a mobile phone to go live, your live stream feed will show up above your guest's.
You can schedule a live stream with a guest from your computer (via Live Control Room) and then go live from your mobile phone. Or you can go live immediately from your mobile phone.
Note
: This feature is being tested with a small group of creators. We hope to let more creators use Go live together soon.
Stay tuned for updates
.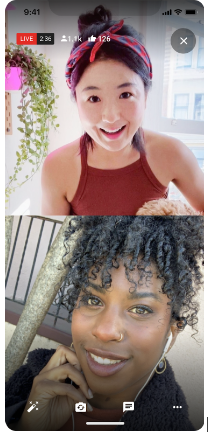 Go live together with a guest
You can rotate guests on your live stream, though you can only have one guest appear on your live stream at a time. You can view the analytics for your live stream within YouTube Studio, but your guest cannot.
From your phone, open the YouTube app.
From the bottom, tap Create + Go live together.
Enter the stream details, including the title, description, monetisation settings, thumbnails and visibility settings.
Tap Done.
From 'Invite a co-streamer', choose an option to invite your guest:

Copy link: Copy the link and send it to your guest in a message (like email or text).
Send invite link to co-streamer.

Your guest will click the link and be sent to the waiting room.
When you're ready, tap Go live.
When your co-streamer joins the waiting room, you'll see a prompt. Select Add and then Go live to start your live stream.
Note: You can invite anyone that has a YouTube channel to co-stream with you. They don't need to be a Trusted Tester.
Join a stream as a guest
You can co-stream with someone else by being invited to join their live stream. Co-streaming with someone else can help you to connect with a new audience on YouTube.
Tap the invite link sent by the host live streamer to your mobile device. They may send it to you via email, text or another messaging service.
Select the channel that you'd like to go live with.
Select Join when prompted to join the waiting room.
While you are waiting to go live, check your audio and video quality.
When you see 'You're live', you're now co-streaming live on YouTube.
FAQs
Can ads show up on a Go live together stream and does the host channel earn revenue?
Yes, both pre-roll, mid-roll and post-roll shows up on Go live together streams and will be attributed to the stream's host channel.
What happens if a guest violates a YouTube policy, for example the community guidelines or its copyright policy, during a live stream?
The host channel is responsible for the live content and should ensure that all guests and content on that co-stream comply with all of our YouTube terms, including our community guidelines, copyright policy and all other applicable policies. For instance, if a guest violates a community guideline on a stream, the host channel will be responsible. Before going live, educate your co-streamer about what they can and cannot do. The host will have moderation tools available during the live stream and can remove the co-streamer at any time.
I created a link to invite a co-streamer. How can I reset it?
Create or edit a live stream and go to 'Invite a co-streamer'. From the bottom, click Reset link. The previous link will no longer let someone join your stream. Send the new link to your co-streamer.