Help please: Nearly all of "Size" option's formerly available in standard Image search's Tools menu, are no longer available in the drop down menu. You can still find them in the inconvenient-to-access "Advanced Search"; but they no longer choosable in Image Search - as shown in thr attached screenshot. I think this had to be a mistake, this helps no-one who uses google in any way. This is not for the Phone browsers, but for PC - so the size of the drop down is not a concern.
Leaving deskto/laptop users with only the choices of "Large', "Medium" and "Icon" makes no sense.

Again, I see no reason why you would give us less options in a drop down menu on the PC/Web version of Google Image search... again I'm guessing (hoping?) this a mistake. I can't comprehend any respectable reason you would want us to have less choices in Image Search Tools for PC.

There are an 14 options no longer shown that use to be avialble in the "Size" in the drop down
. If this was intentional to remove the capabilities iof image search I find this very sad.

The only benefit from this change would be to Google in reduced processing-overhead on their servers (at the cost of the user's experience)
. Removing the majority of the Size parameters for Google's image size greatly reduces the computational need on your servers - checking each image record for its resolution would
clearly
do this... and by removing the options you greatly decrease the chance the user will use these options or any size setting. And the three choices remaining use pre0sorted categories that require a less in-depth algorithm, since its not checking each file for a value but jsut for a category that google placed the image in at the time they were indexed.
I hope I am wrong.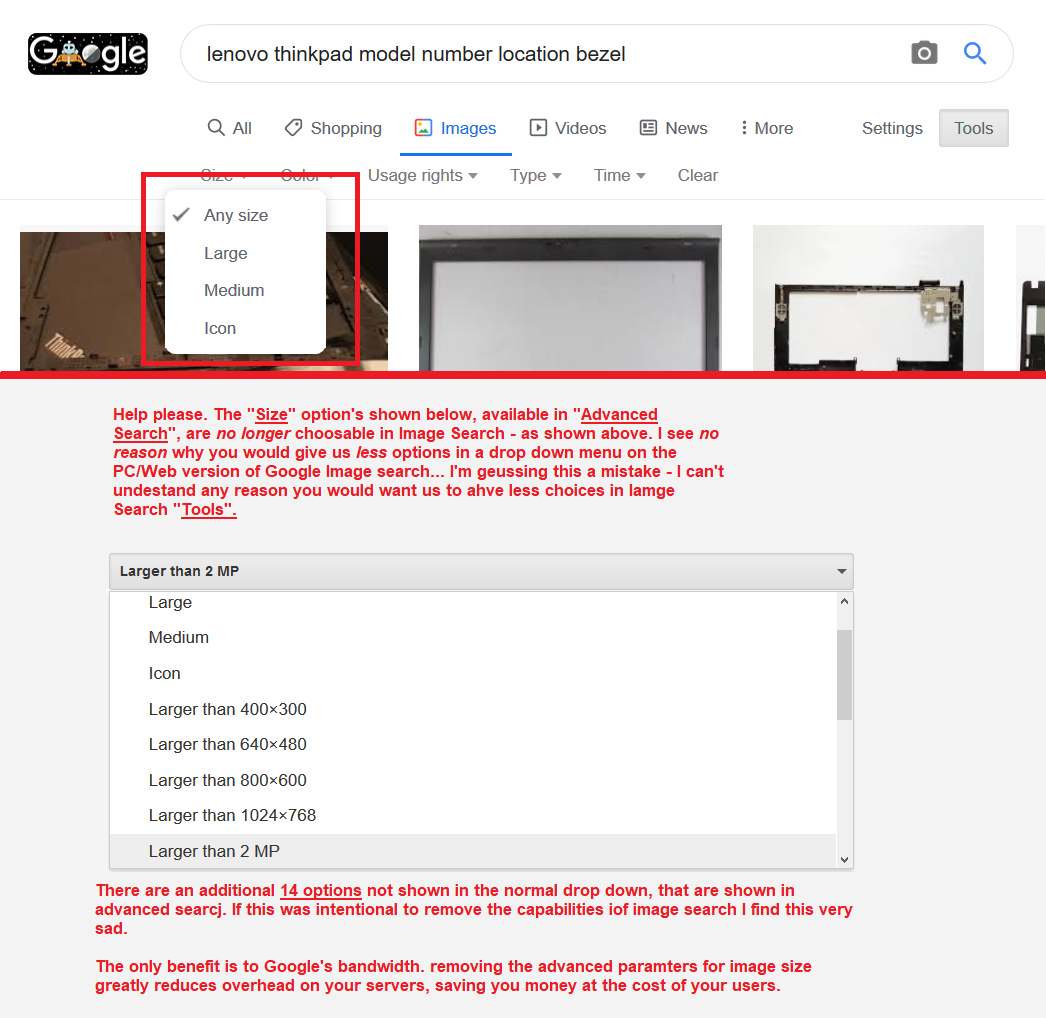 y
This question is locked and replying has been disabled.
This will remove the reply from the Answers section.
Notifications are off
Your notifications are currently off and you won't receive subscription updates. To turn them on, go to Notifications preferences on your Profile page.
Report abuse
Google takes abuse of its services very seriously. We're committed to dealing with such abuse according to the laws in your country of residence. When you submit a report, we'll investigate it and take the appropriate action. We'll get back to you only if we require additional details or have more information to share.
Go to the Legal Help page to request content changes for legal reasons.