Use Google Now
Google Now displays cards when they're most likely to be useful and relevant based on the current time and your current location.
To view the Google Now cards that are waiting for you at any time, follow the steps for your device:
Android 4.1+ devices: Touch the Google Search bar at the top of any Home screen. On certain devices, you may be able to swipe your finger up from the bottom of the screen or touch & hold the Home button.
Nexus devices: Swipe your finger up from the bottom of any screen.
Nexus 5: Swipe to the leftmost Home screen.
Google Play edition devices: Touch & hold your phone's Home button.
To see more cards, touch More below the last card displayed.
Swipe cards away
Swipe cards away when you don't need them. If you want to bring the card back immediately after swiping it away, touch the Undo icon.
On Nexus 5, swipe cards to the right to dismiss them.
You'll occasionally be asked whether a card was useful. By answering, you can help Google Now learn which cards are most useful to you.
Turn cards off
To stop certain cards from appearing, touch the
Menu icon on a card displayed in Google Now and select No to stop receiving updates.
Edit card settings
To edit settings for a specific card, touch the
Menu icon on any card displayed in Google Now.
In some cases, you can also adjust preferences related to that card (such as Fahrenheit or Celsius for the Weather card). Some cards also let you answer questions that help Google Now fine-tune its performance.
Some cards can be improved based on details you specify, such as your home and work addresses, the sports team or stocks you're following, and so on. To edit such details, touch the

Customize icon on the main Google Now screen.
Adjust notifications
When certain cards appear, you'll receive a notification. You can touch the notification to open the card, or swipe to dismiss it.
To adjust notifications settings, go to Menu > Settings > Notifications. For certain high-priority card notifications, you can set a ringtone or turn Vibrate on or off.
See a summary of your Google Now cards
The Google Now widget displays a summary of your current Google Now cards, either on a Home screen or on the lock screen. Touch the widget anywhere to see the details in Google Now.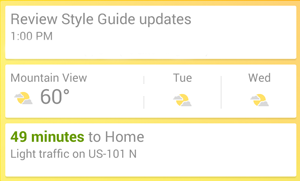 Add a Google Now widget
To add a Google Now widget to the lock screen on Nexus and Google Play edition devices, touch the Add icon and follow the instructions.
To add a Google Now widget to a Home screen, touch your device's apps menu and locate your widgets; on Nexus 5, touch & hold empty space on any Home screen, then touch Widgets. Touch & hold the widget, and drag it to the location you want.