Handwrite on mobile
It's not always easy to use the keyboard on your phone or tablet, especially when you're on the go. Instead, try Handwrite to write your search terms with your finger rather than typing the words on the keyboard. As you write, your handwritten text converts into words in the search box.
Introducing Handwrite
Turn Handwrite on or off
Visit the Search settings page from your mobile device.
Go to the Handwrite section.
Select Enable to turn on and Disable to turn off.
Touch Save at the bottom of the page.
Note: You might need to refresh the homepage to see the changes you've made.
How to search using Handwrite
Once Handwrite is turned on, visit your local Google page, like google.com.
Touch the Handwrite icon in the lower right corner of the screen on your mobile device.
Use your finger to start writing your search terms anywhere on the screen.
As you write, your handwritten text converts into typeface in the search box.
Touch the search icon to start your search.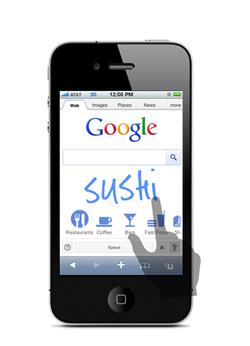 Tips and tricks
Delete letters: Touch the backspace icon at the bottom of the page.
Start over: Touch X in the search box at the top of the page.
Clarify characters: When you type a character that could be mistaken for another, like 0 (the number) and O (the letter), a list of options may appear at the bottom of the screen.
Use predictions: To help save you time, a list of predicted queries may appear in the search box as you write. Touch a prediction to search for that query, or touch the arrow to the right of a query to explore related searches.
Include symbols: Try symbols and special characters like +, @, &, and $.
Availability
Android 2.3+ phones
Android 4.0+ tablets
iOS 5+ phones and tablets