Images results page
How to search
At images.google.com, simply type in the search box to find relevant images from across the web.
Google will search the web for all types of images that seem relevant to your search.
You can optionally refine your search using the related searches.
Click an image result to see a larger version, additional information, and the webpage where the image is from.
Overview of the page
Here's a quick guide to the elements that you'll find on a Google Images search results page.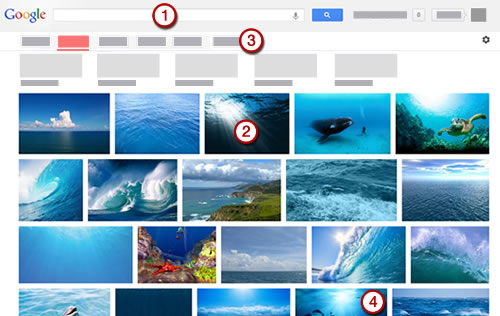 Click these links to learn more:
---
Header & search bar
Google products bar
See links for various Google services and a "more" menu for additional services that aren't listed. Use these links to navigate to basic web search, Gmail, and other Google products.
Gear
Click the
gear icon to access your Search settings (like search language and the number of results you'd like to see per page), Advanced search (where you can enter more details about what you're looking for), or your Web History.
Sign in & out
If you're signed in to your Google Account, the email address and profile picture, if you have one, associated with your account will be shown on the top of the page.
Search bar
Type in a few descriptive search terms, then click Enter on your keyboard or click the Search button. To search by image, click the
camera icon in the search box and use an image or an image URL as your query.
SafeSearch
SafeSearch filters provide you with the ability to change your browser setting to prevent adult content from appearing in your search results. Learn more about SafeSearch settings and how to change them.
---
Search results
Once you enter a search, you'll see pages of image thumbnails that seem relevant to what you're looking for.
Pages of results
The images are arranged into pages, and you can use the scroll bar to browse downwards through the pages. If your search returns many related images, we'll typically show you the first few hundred images. To see additional images, scroll down to the very bottom of the page and click Show more results. Images are arranged according to their relevance to your search as well as their dimensions.
Image details
Hover your cursor over an image to see the size of the image and the webpage where the image came from. Click an image to see a larger version, additional information, links to the webpage, and visually similar images.
---
Tools & filters
Related searches
For some searches, you'll see panels which include images and a topic related to your search above the image results. Click a panel to see larger thumbnails, then click View all images to see all image results for that refined search topic.
Search tools
Click Search tools to open a panel of available tools and filters, and limit or customize the image results. For example, see only images of a certain type like just photographs or line drawings, or filter your results by image size or predominant color.
Learn more about these search options.
---
Bottom of the page
If you scroll down to the very bottom of the page, you'll see some helpful links and resources including
Help
and the
Images homepage
.
More results
If the image you're looking for isn't shown, you can click the Show more results button at the bottom of the page.
Feedback link
Unhappy with your Google results for a particular search? Have a great idea to improve image search? Want to share a Google Images experience you've had? Click the Send feedback link to share your thoughts with us.