Reading level
Sometimes you may want to limit your search results to a specific reading level. For example, a second language learner may want more basic sites, a middle school teacher looking for educational material for her students may look for intermediate resources, and a scientist searching for the latest findings from the experts may want to limit results to those at advanced reading levels.
How to modify your search results by reading level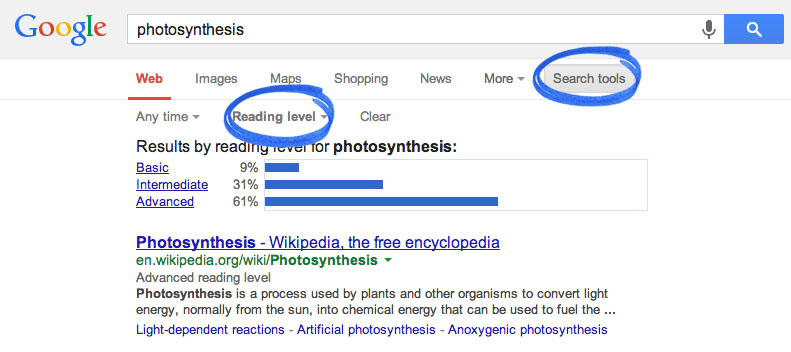 Click Search tools at the top of the search results page.
Click All Results.
Click Reading level. You'll now see results annotated with reading levels as well as a percentage breakdown of results by reading level.
To filter your results by a specific reading level, select your desired level (Basic, Intermediate, or Advanced).
At any time, you can click Clear to go back to seeing all results.
How reading levels are determined
The reading level for a particular result is determined by a computer program. When the program was created, thousands of web documents were rated by teachers as basic, intermediate or advanced. These ratings helped the program understand what factors led results to being easier or more difficult to read. When new results appear, the program determines their appropriate reading level based on factors such as vocabulary, word length and grammatical complexity.