Make calls with Google Voice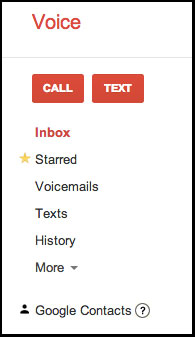 To make a call from the Google Voice page
Go to Google Voice.
On the top left of the page, click Call.
Type a contact's name or phone number.
Choose the phone number you want to use for that call and click Connect. Google Voice will call you at that phone and connect you to the number you dialed.
How to use your own Google number to make a call
If you'd like to make a call from a different phone number but want to make your Google Voice number show up on the caller ID, you can use own Google number to place the call.
Call your own Google number.
Press 2.
Enter the number you want to call.
Press the pound # key.
You can also make calls from Google Contacts
Click Google Contacts on the left side of the Google Voice window.
Click on any contact whose phone number you have saved in Google Contacts.
Hover over their phone number.
Click the phone icon next to their number. Remember, if your contact has an international phone number you need to add a "+" and the country code. For example: +33 123456789.
Related articles: