Choose the people in "Your circles"
When you share on Google+, you can select the circles or people you want to share with, or you can use the Your circles option. By default, Your circles includes all the circles you've created. If there are circles you'd prefer not to share with you can remove them from the Your circles list.
For example, you may want to read new posts from your "Celebrities" circle, but not than share with them. In that case, you wouldn't include them in "Your circles".
Open Google+. Place your cursor in the top left corner for the Google+ main menu.
Click Settings. In the Your circles section, click Customize.
You can also modify this setting by clicking the
Your circles
"chip" in any sharebox and then clicking
Customize
.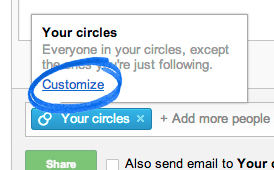 Here are some things to keep in mind with the circles you're just following:
By default, only people in Your circles can chat with you. People you exclude may no longer be able to chat with you. (You can change this setting.)
People in the circles you're just following are still included among your extended circles.
You can still share with the circles you're just following (and the people in those circles) -- this setting only affects who is included in "Your circles."
The customization of Your circles applies everywhere the "chip" is used. (For instance, in your profile visibility settings, your Google+ settings, and who you share with.)