1. Using the Google Photos App for Android, create a new album
2. Select multiple people, that have over 10,000 photos each
3. Save Album and share it with your closest family members
4. Wait for the photos to be added to the album (overnight)
5. Live Album Paused issue appears in the Google Notification area
Expected Result: Live albums should have infinite capacity for massive photo albums.
Actual Result: Live albums appear to have a limited capacity in the low-to-mid tens of thousands.
Suggested resolution: Remove oldest photos from the album when album size exceeds the album size limit, or at least give the user some kind of option.
Yesterday, I created a Live Album with the new Live Album feature that was introduced. I selected three people from my photo collection to be automatically added when I take new pictures. It Turns out I have tens of thousands of photos of those three people (~60,000 total). Today, I got an error message indicating I can't add any more photos to the album. When I click on the message, it opens the options for the album, but there is no obvious action I can take to get my album to continue updating.
It looks like albums do not have an infinite capacity, and unless you intend to handle an infinate number of photos in massive albums, I would recommend either treating the live album like a queue (newest in, oldest out,) or allowing the user to filter photos by after a specific date. The way the feature works with sharing photos to my partner is nice, because it allows me to share all photos in my collection taken after we met. Automatically hiding photos of my ex girlfriends if I choose to display the live album on a photo frame or my TV screensaver. This could really be important if you continue to allow photos from multiple people in one live album.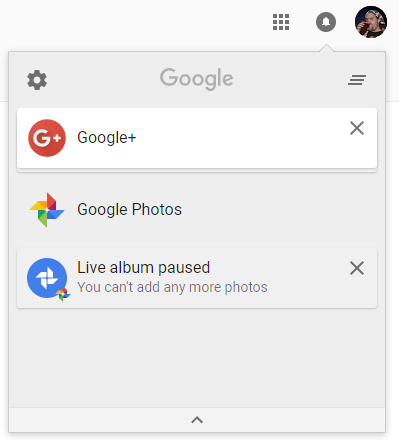 This question is locked and replying has been disabled.
This will remove the reply from the Answers section.
Notifications are off
Your notifications are currently off and you won't receive subscription updates. To turn them on, go to Notifications preferences on your Profile page.
Report abuse
Google takes abuse of its services very seriously. We're committed to dealing with such abuse according to the laws in your country of residence. When you submit a report, we'll investigate it and take the appropriate action. We'll get back to you only if we require additional details or have more information to share.
Go to the Legal Help page to request content changes for legal reasons.