Pay in stores
Note: This feature is only available in the Google Pay app on Android devices.
You can use your phone to pay for goods or services you buy in stores with Google Pay.
Where you can use Google Pay
To see if you can pay with Google Pay in a store, look for a checkout screen with either of these logos: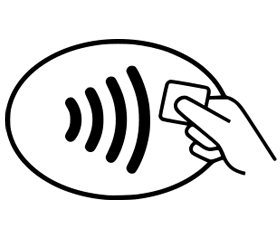 See a list of major stores that accept Google Pay.
Important: You'll need to turn on NFC to pay in stores. To turn on NFC, check your phone's settings app.
Pay in a store
Step 1: Wake up and unlock your phone
Turn on your phone screen, then unlock your phone. You don't need to open the Google Pay app.
Step 2: Hold the back of your phone close to the screen for a few seconds
When you're done paying, you'll see a blue check mark on the screen.
If you don't see one:
Try holding your phone a different way. Your NFC antenna could be near the top or bottom of your device.
Hold your phone closer to the screen.
Hold your phone for a few extra seconds.
If you do see a check mark but the cashier says the payment didn't work:
Double-check that the store accepts mobile payments.
Contact your bank to check that your card is working right.
Step 3: If prompted, follow the instructions on the screen
Some stores use older software that asks for a PIN or signature. If you're asked, follow the steps on the screen.
Debit cards: Enter the PIN you set up with your bank. This PIN is different from the PIN you use to unlock your device.
Credit cards: For larger transactions, sign the receipt or the signature box on the screen.
Pay with a different payment method
If you don't want to use your default payment method to buy something, you can change your default payment method or switch payment methods one time.