Pay in stores
Watch this video to learn how to pay with Google Pay in stores and other places.
How to pay in stores and other places
Where you can use Google Pay
With Google Pay, you can pay with your Android phone in stores where you see contactless terminals with either of these logos: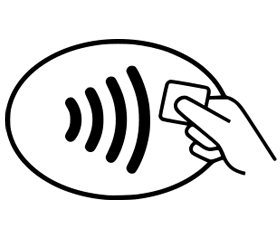 Here's a list of major stores that accept Google Pay.
Note: You'll need to turn on NFC to pay with contactless terminals. Check to see if it's turned on in your phone's settings app.
What to do when it's time to pay
Step 1: Wake up and unlock your phone.
You don't need to open the Google Pay app to make a payment, but you do need to have your phone screen on and your phone unlocked. Depending on your country, you might not need to unlock your phone for smaller transactions.
Step 2: Hold the back of your phone close to the terminal for a few seconds.
If Google Pay sends the payment info, you'll see a blue check mark. If you don't see one:
Try holding your phone a different way. Your NFC antenna could be near the top or bottom of your device.
Hold your phone closer to the terminal.
Hold your phone for a few extra seconds.
If you do see a check mark but the cashier says the payment didn't work:
Double-check that the store accepts mobile payments.
Make sure your card information in Google Pay is up to date.
Step 3: Follow the on-screen instructions.
When the payment goes through, follow the same instructions you would if you insert your card.
Debit cards: Enter the PIN you set up with your bank. This is different from the PIN you use to unlock your device.
Credit cards: For larger transactions, enter your PIN or sign the receipt or in the signature box on the terminal.
Pay with a non-default payment method
If you don't want to use your default payment method when it's time to pay, you can change your default payment method or switch payment methods for a single transaction.