A personalization is a set of changes made to your website for a specific group of visitors. Unlike experiments, personalizations can run forever and don't have variants. A personalization is a single set of website changes that are shown to all visitors that meet the targeting conditions.
You can create a personalization in the following ways:
Method 1 – Create a personalization
To create a personalization:
Click on a container.
Click CREATE EXPERIENCE.
Name your experience.
Click Personalization.
Click CREATE.
After clicking CREATE you'll set up your personalization via two widgets at the top of the page (the status bar and stepper) and a series of configuration cards.
Two informational widgets at the top contain important information about your personalization at a glance:
The status bar displays the test's name and status (e.g. draft, running, or ended) and provides quick access to the schedule , start , and more buttons to the right.
The stepper tracks your progress and displays a green checkmark next to each completed step.
The configuration cards include:
Site changes and targeting – Click MAKE SITE CHANGES to start creating your first personalization in the Optimize visual editor. Once you've made your changes, add targeting rules to decide which visitors will see your new personalization.
Description – Enter relevant information for your reference (e.g. project, client, objective, hypothesis, etc.) and help colleagues understand the goal and intention of your personalization, even long after it has been archived.
Measurement – Link your Optimize container to a Google Analytics property and view. Once you complete this step, you'll see the linked Property, View, and the Experience ID. Learn more. You'll also see a checkbox (unchecked by default) that allows you to sending additional events to view reports in both Optimize and Google Analytics.
Settings – This card will help ensure that your experience is set up correctly.
Installation diagnostics – Run diagnostics to verify that Optimize is installed correctly before starting your experience. Learn more.
Email notifications – Receive important notifications about your experience via email. Learn more.
Activation event – Optimize supports dynamic web pages that load additional data after the initial page load via activation events. Learn more.
Once you've completed the steps above, you're ready to start your experience. Just click schedule

or start

, in the status bar.
Method 2 – Permanently deploy a variant
While you are running an experiment, you can deploy any of your variants – usually the leader – permanently as a personalization. The personalization contains the changes from the selected variant and the targeting rules from the experiment. To deploy an experiment variant as a personalization:
1) Click More
next to a variant:
2) Select Deploy variant: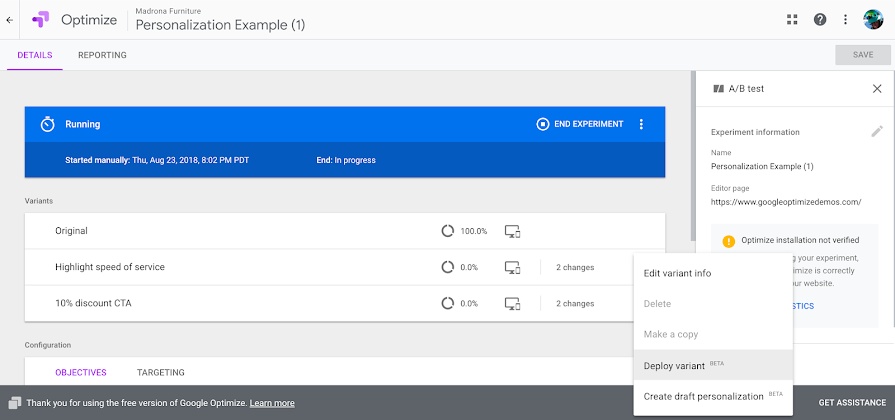 3) Enter a name and (optionally) check Measurement if you want to view reports in Optimize and Google Analytics.
Note
If you opt-in for measurement, Optimize will send additional Google Analytics events that will allow you to view reports about your personalization traffic in Optimize and Google Analytics.
4) Click "Continue" to end your experiment and start running the personalization:
Everyone who meets the targeting conditions will now see your changes, including visitors who had previously seen a different variant.
Method 3 – Create a draft personalization from a variant
This allows you to create a personalization based on your experiment variant while keeping the experiment running. The personalization is created in a draft state and you can modify it before starting it. Follow the below steps to create a draft personalization from a variant:
1) Click the "More options" button next to the variant:
2) Click the "Create draft personalization" option:
3) Specify a name and choose whether to capture measurement data:
4) Click "Continue" to create the draft personalization. Your original experiment will continue running and you can start the personalization when you are ready.
Related resources