Configure your language, email, and data sharing settings.
There are two types of settings in Optimize, user settings and account details. User settings allow you to configure your language and email preferences, and account details allow you to control your data-sharing settings.
User settings
Optimize user settings consist of the My information card, and the Email preferences card, which are available in the top-right of the Optimize header:
Click More .
Click User settings.
Edit your settings.
Click SAVE.
My information
Choose your preferred Language from the drop-down menu.
Visit your Google account settings to edit your email address, reset your password, or learn about access to other Google Services.
Email preferences
Opt into Optimize emails with tips, recommendations, product announcements, and market research. Available emails include:
Tips and recommendations – Get the most out of your Optimize account.
Product announcements – Receive updates on the latest features, updates and product announcements.
Market research – Participate in market research and pilots to help Google improve Optimize.
Learn more about how to manage email notifications and Optimize container settings.
Account details
As an Optimize user, you can be invited to join multiple accounts and containers. All of your available accounts and containers will appear in cards on the accounts page. To access your account details:
Navigate to your Optimize accounts page.
Click More in the upper-right of any account card.
Click Edit account details.
Edit your account.
Click SAVE.
Note: If Edit account details is grayed out, contact the account owner and request admin access.
Edit account details
The account details panel allows you to view your Optimize Account ID, edit your Optimize Account name, select your data sharing settings, review the Data Processing Amendment (DPA), and manage DPA details.
Data sharing settings options include:
Improve Google products – Share data in your Optimize account with Google to improve Google's products and services. If you disable this option, data can still flow to other Google products you've linked to your account.
Benchmarking – Contribute anonymous data to an aggregate data set to enable features like benchmarking and publications that can help you understand data trends. All identifiable information about your website is removed and combined with other anonymous data before it is shared with others.
Get in-depth analysis – Give Google sales experts access to your Optimize account, including data therein so that you can get more in-depth analysis, insights and recommendations across Google products.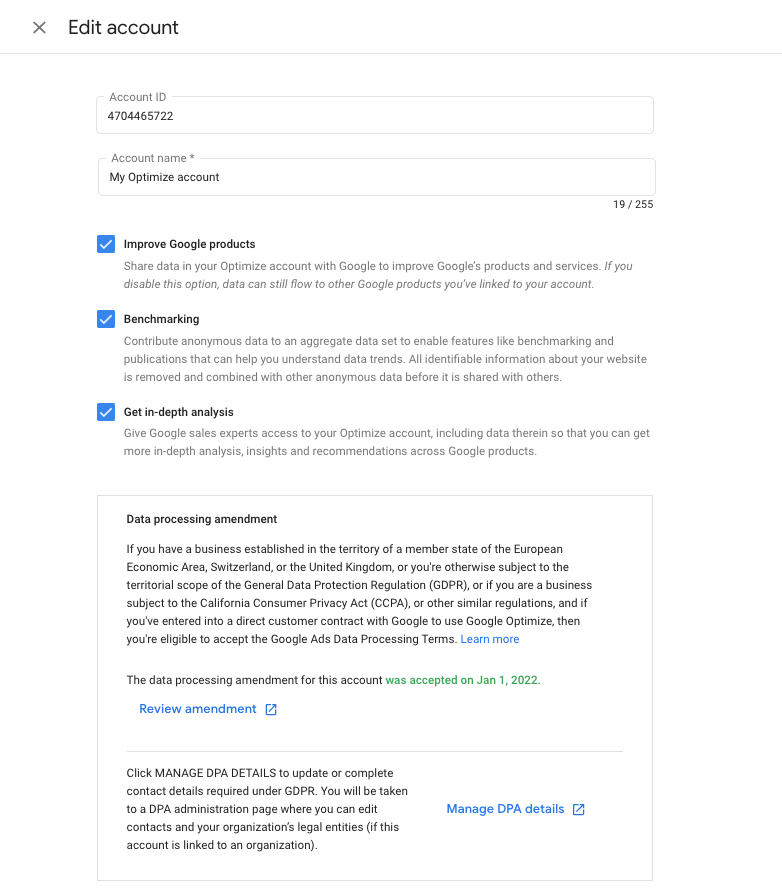 Related resources