Analog Efex Pro 2 Tour
Interface Controls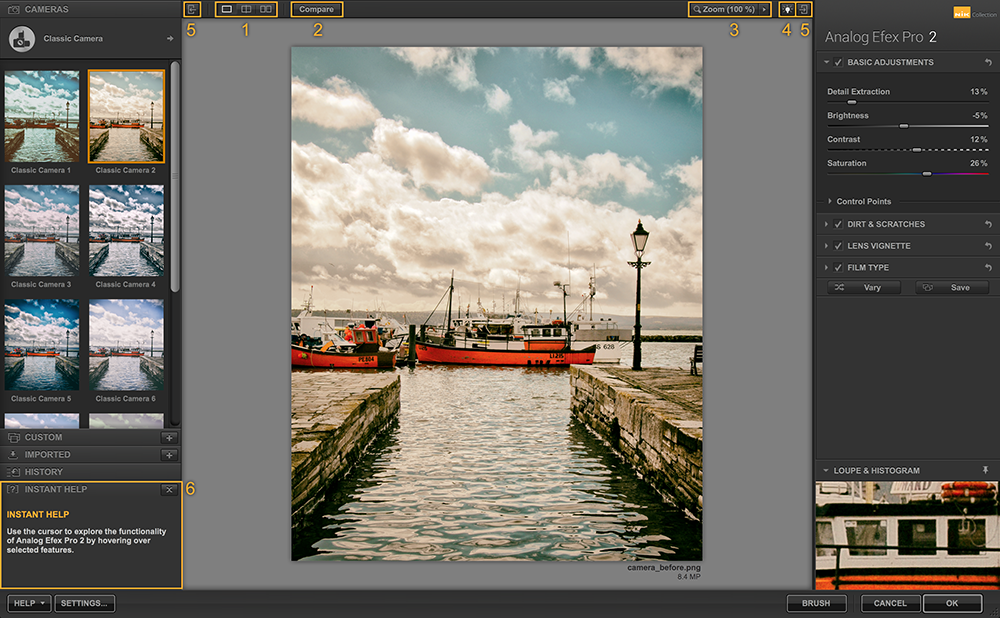 1 View Modes

Single Image View: In this view, the image is displayed with the analog effect applied across the Image Preview area.
Split View: The image is displayed with a red line running either vertically or horizontally through it, with the original on one side and the edits on the other.
Side-by-side View: In this view, two separate previews appear. The previews are linked for zooming and panning. This lets you see the before- and after-images as a whole, or at the fine detail level.
2 Compare
The Compare button enables you to toggle on and off a preview of analog effects applied to the active image.
3 Zoom Tool
The Zoom tool enables you to zoom into your photo. Clicking on the Zoom tool will immediately zoom into the zoom value selected (100% by default). After zooming into your photo, the Navigator will be displayed which enables you to click and pan on a bird's eye view of your photo.
4 Background Selector Tool
The Background Selector tool lets you change the color of the background surrounding the image. The three choices are white, gray, and black.
5 Palette Display Tool
The Palette Display tool lets you toggle the control palettes on and off in the interface. Turning off the control palettes provides an uncluttered working space to review your images.
6 Instant Help
The Instant Help feature allows you to use the cursor to explore the functionality of various features by hovering over each feature. To close the Instant Help tool, click the X. To reopen the tool again, click Help in the lower left corner.
Image by Allison Malone
Was this article helpful?
How can we improve it?