Publish your edition
After your edition is complete, you can test it and make it publicly available.
Overview
Steps to publish your edition:
Setup and test your edition
Although Google News Producer displays a preview of your edition as you build it, we recommend that you test a fully interactive version before distributing it.
Once you publish your edition, you can share a link with your users that opens the edition in their Google News app. You can also improve your chances of appearing as browseable in the catalog by ensuring that your edition follows our general and technical guidelines.
How to test your edition
Go to the Publish section of Producer.
Select the type of testing you want to do (e.g. Google News Android testing).
Subscribe to your edition by clicking the Subscribe button.
Install the Google News app on your mobile device.
Sign in to Google News using your administrator account email address.
If you don't see your edition, sync your library.
Open your edition from the Google News home screen to see ongoing updates.
Review warnings
Potential issues with your edition appear under Review warnings, along with links that allow you to provide any missing settings. We recommend you address all warnings before publishing your edition.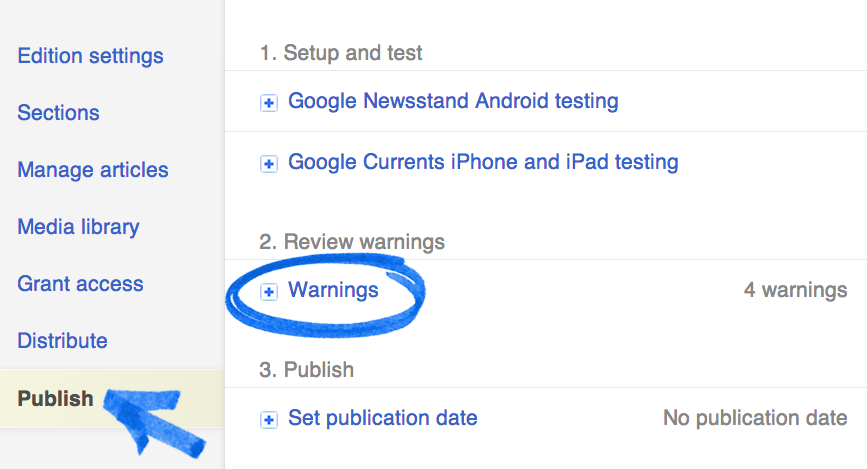 Publish
When you're happy with your edition, you can publish it to Google News. You can either publish it immediately or set the edition to launch at a specific date and time (in GMT).
To publish your edition, follow these steps:
Sign in to Producer and click Publish from the navigation menu.

Click Set publication date settings, provide a date, and click the Publish button.
Once you've published your edition, you'll be able to find your edition ID in the Producer URL. For instance, if the URL for your edition in Producer is https://www.google.com/producer/home#!/r/edition:CJwejiiTWa:CAAqBwgKMNSGkAgwnZJ5/basics, your edition ID is CJwejiiTWa. The share link would be: http://www.google.com/news/s/CJwejiiTWa.
When a reader opens the link on a supported device, they'll see a page describing the edition. They can tap the blue button labeled Read in Google News to open the edition in the Google News app. When they open the edition in Google News, they'll be invited to subscribe to your edition.
After you publish your edition, we review it. You can share your edition through the share link, but users can't find it in the News app yet. Your edition will be discoverable after we approve it per the News inclusion guidelines.
Learn more about gaining readership.
Unpublish an edition
If you wish to remove your edition from the catalog, you can unpublish it:
Open the edition in Producer.
Click the Publish tab.
Click Set publication date.
Click Revoke this published edition.
When you unpublish an edition, it stops being findable in the Google News app and is removed from users' libraries.
Was this article helpful?
How can we improve it?