Additional homepage settings
There are many ways you can customize the content and features of your Google News homepage to create an even more relevant experience. These Additional Settings can be found by clicking the gear icon in the top right of the screen, then clicking the Settings link under the list of preferred sources.
On the Additional Settings page, you will see a handful of toggles referring to various elements on the Homepage which allow control over column layout, Google+ content, Sports and Weather sections and more: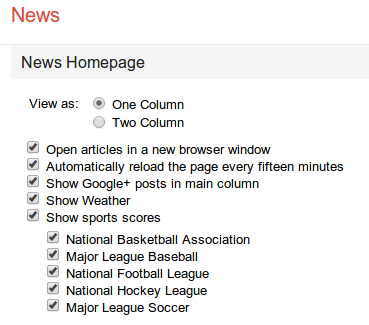 If you've selected to show the sport scores, you'll also have the ability to select which specific sports content you'd like to display.
(Note: If you are not signed in to your Google Account, you will only see options for opening articles in a new window, automatically reloading the page, and displaying weather.)
Once you've adjusted your settings, click Save changes and your Google News homepage will be updated.