Based on your feedback, we simplified the desktop and laptop versions of Google Meet to give you more room for video feeds, content, and make controls easier to find.
Find your controls
You can find all controls in the bottom bar of the meeting window. The bottom bar is always visible.
The meeting code is on the bottom left corner.
When the screen is maximized, a clock appears on the bottom left.
Microphone, camera, captions, hand raise, presentation controls, more options and hang up button are in the middle.
So you don't accidentally hang up, the leave meeting button is on the far right, away from the camera and mic buttons.
Tip: When you point to a button, the name of the button appears.
On the bottom right, you can find meeting details like joining info, the people panel, the chat panel, and the activities panel for Breakout rooms, Polls, Q&A, and more.
Important: Education users can find the Host controls button next to the activities panel.
See what you're presenting
You can now simultaneously see other participants and what you present on-screen. Point to your presentation feed to:
Unpin your presentation to view it as a tile so you can see additional participants.
Mute any audio in your presentation.
Remove a presentation from a meeting when someone joins only to present.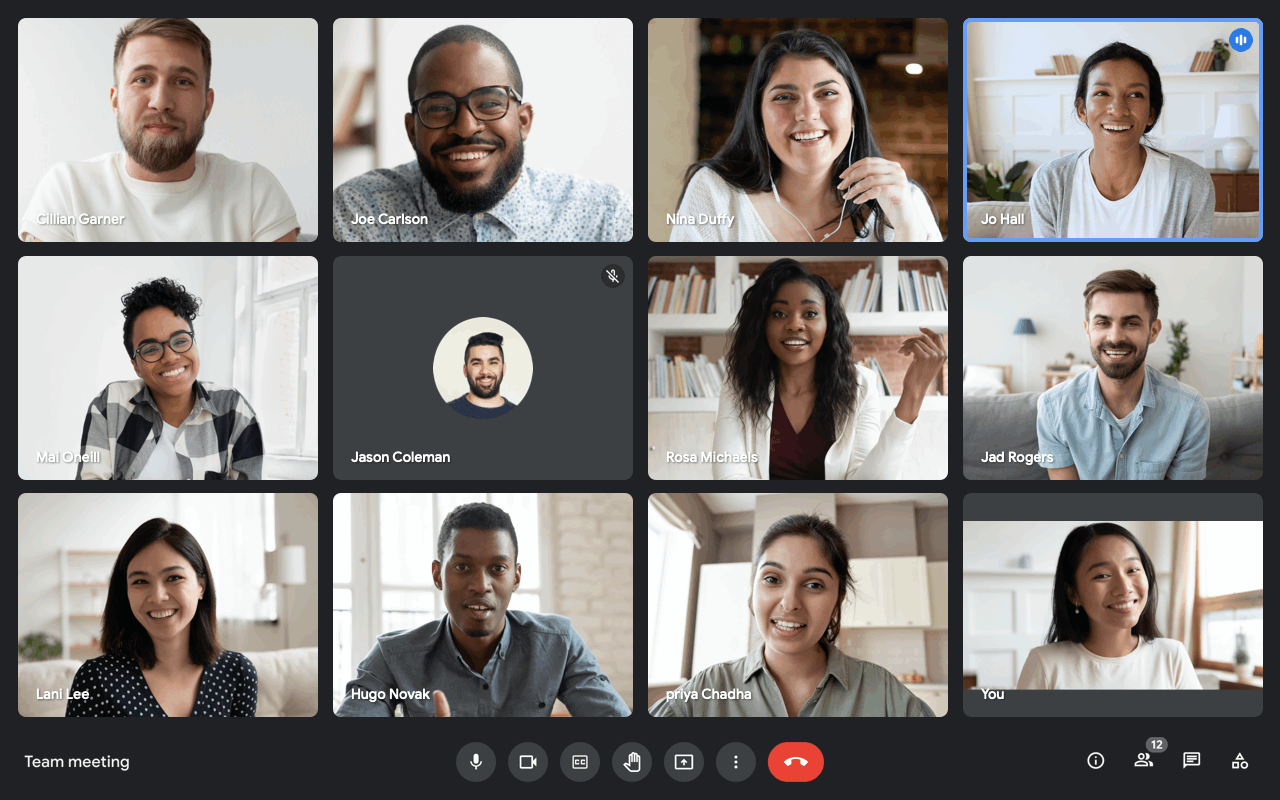 You can't interact with presentation content from the meeting window. You can change slides or scroll through the document from the window you present.
Tip: For better presentations and to avoid mirroring, you should share your content from a different tab (strongly recommended) or window than the meeting window. If you need to share your entire screen, move your presentation to a different monitor if possible.
Change your self-view
If you're in a meeting with one person, your self-view automatically shows as a floating picture next to the other participant. If someone else joins or a presentation is added, your self-view is automatically added to the grid. In both cases, you can switch between the floating picture and the grid. Your choice is saved for future meetings.
Point to your self-view to pin or unpin yourself, switch from a floating picture to tile view, or minimize your video feed from your screen.
To change your self-view size, you can:

Drag the corners of your self-view window.
Drag your self-view window to any of the 4 corners of the meeting window.

Important: If you minimize your video feed, it only applies to your view.

In some cases, your self-view could appear with gray bars at the top and bottom to show you everything your camera sees. Other participants might see a cropped version of your video feed.
Use Picture-in-Picture to navigate away from the Meet tab and open a floating window with video tiles. The floating window shows up to 4 other attendees' videos and stays on top of your other applications.
Use Picture-in-Picture
At the bottom of your Meet tab, click More options

Open picture-in-picture.
Picture-in-Picture features
Hover over the floating window to:

Mute your microphone
Control your camera
Leave the call
Jump back to your Meet tab

If you're the presenter, you can continue to view your presentation in the Meet tab.
When Picture-in-Picture is active, you continue to get important notifications like:

Chat messages
Hand raises
Join requests
Find the updated tile view
You can use tile view to see more participants at once.
To see more participants' tiles, maximize your Meet window or change your layout from More options .
When someone speaks, their tile is outlined in blue.
When a participant is muted, their tile shows a Mute icon .
Find your meeting or call tab with Search Tabs
At the top right corner of your Chrome browser, click Search tabs .
Select your meeting or call tab.

Tip: A separate "Audio & Video" section appears if you have a tab with live audio or video.
Tip: You can also use a keyboard shortcut:
On Windows PC and Chromebook: Ctrl + Shift + A.
On macOS: Shift + + A.
Some 3rd party Meet extensions may cause unexpected meeting issues. For example, video feeds or side panels might be cut off or missing. For the best performance, you should disable 3rd party extensions.
Disable external 3rd party Meet extensions
On your computer, open Chrome.
At the top right, click More More tools Extensions.
Next to the Meet extension, turn the extension off .