The road formerly named "Gardner Street" in Charlestown, MA, USA has been entirely renamed to "Beacham Street". The name change starts at the
Cambridge Street intersection
and continues north to the
Main Street intersection
. (The road was already named "Beacham Street" where it continued north of Main Street; they simply extended this name onto the entire road.) This occurred as part of a significant
reconstruction project
in Sullivan Square that was finally completed a few months ago. It converted this road into a public way that is intended by the city to alleviate congestion in the nearby traffic circle. (In the past it was for public transit buses only.)
I submitted this name change in Google Maps three different times (each time was well over 30 days ago). However this change doesn't seem to have taken effect properly. The road is now labeled with both names when viewing the map at a high zoom level, rather than just "Beacham Street". If a pin is dropped at any point on this road, the pin shows the name "Gardner Street", never "Beacham Street". (The only exception seems to be intersection points, which have the correct name, as seen in the links above.) The map editing interface also does not identify Beacham Street as a road name here.

I need a community moderator to contact the appropriate Google team members to have the name "Gardner Street" dropped from this road. I am attaching a screenshot of an e-mail confirmation I received for an edit on July 14, which should have had this effect.

I am also attaching photos of street signage in this area to illustrate the name change. (Please note: Street View and satellite imagery no longer accurately reflect this area, as a result of the reconstruction project. I would encourage this area to be prioritized for a imagery refresh when possible. While it was already a heavily-trafficked area, there is now a significant increase with visitors to the new Encore Boston Harbor casino that opened two months ago, just a mile north of here.)
Thank you very much!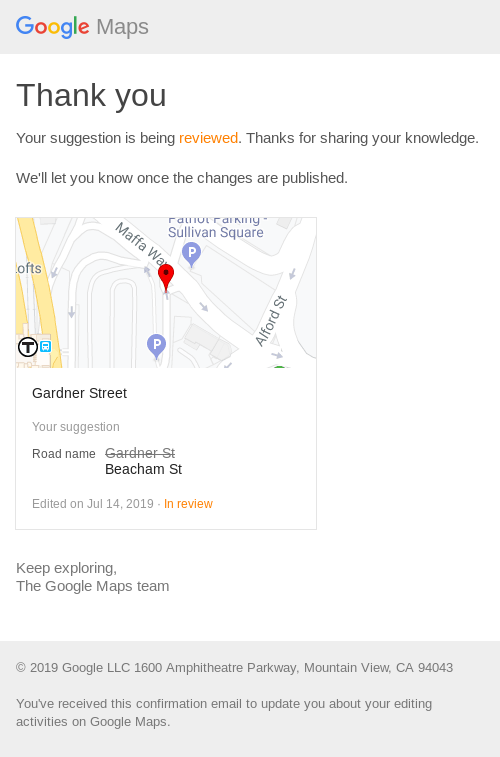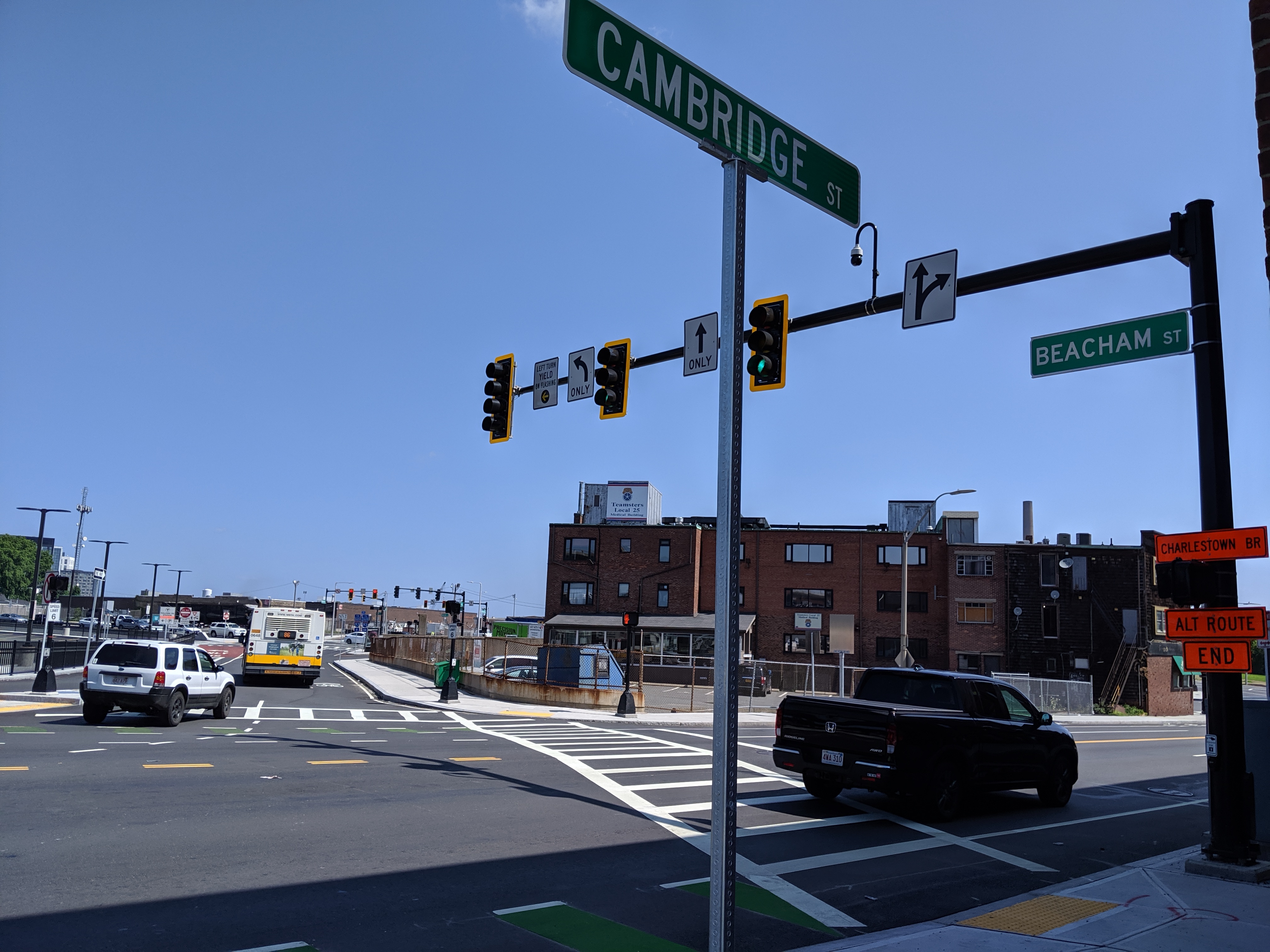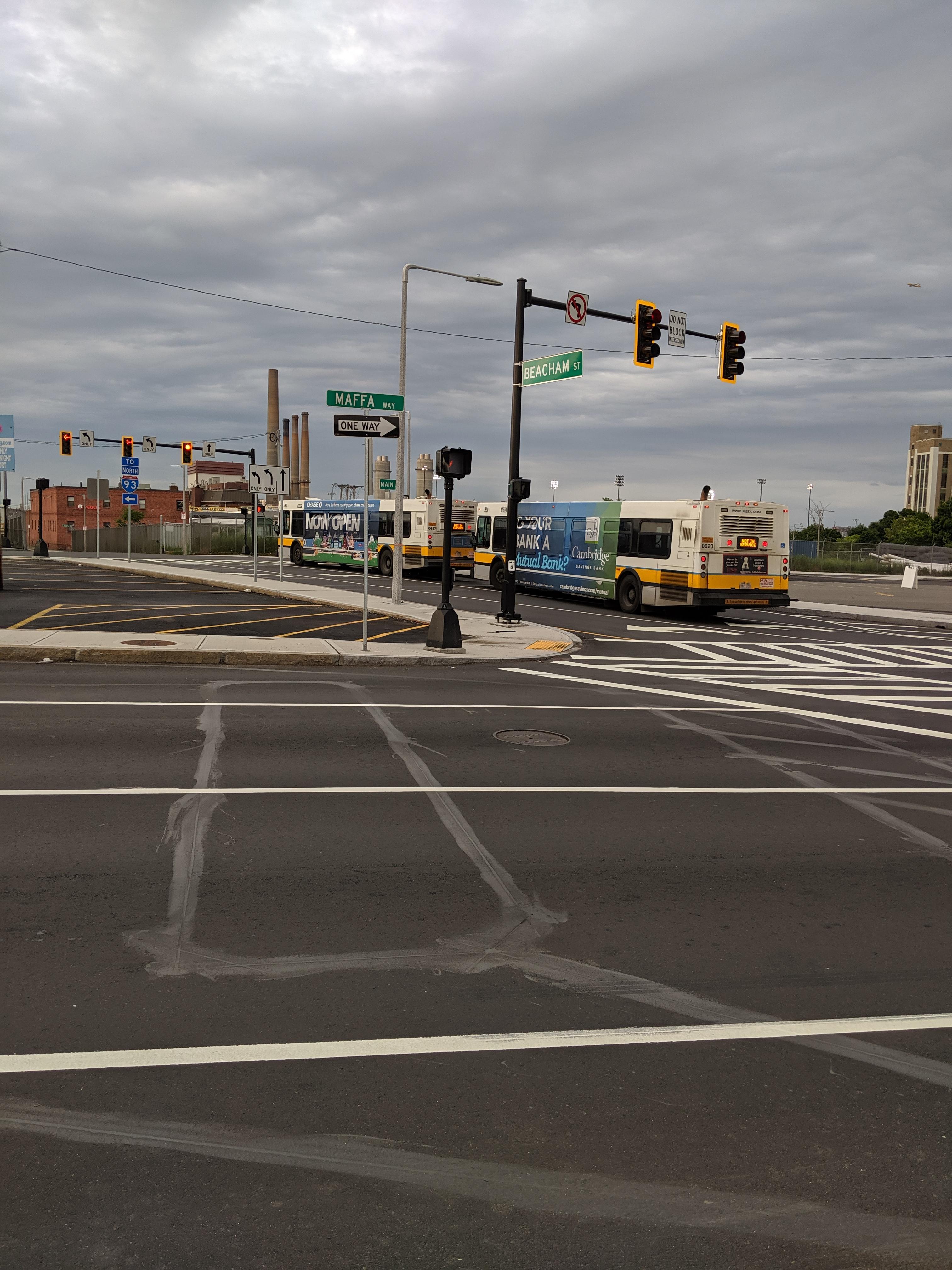 This question is locked and replying has been disabled.
This will remove the reply from the Answers section.
Notifications are off
Your notifications are currently off and you won't receive subscription updates. To turn them on, go to Notifications preferences on your Profile page.
Report abuse
Google takes abuse of its services very seriously. We're committed to dealing with such abuse according to the laws in your country of residence. When you submit a report, we'll investigate it and take the appropriate action. We'll get back to you only if we require additional details or have more information to share.
Go to the Legal Help page to request content changes for legal reasons.