Estimated driving and fuel costs
Cost of driving
Cost of driving is currently available for US cities only. It's presented in Google Maps next to the cost of the transit trip for comparison purposes only. This number is only an estimate and doesn't consider tolls, parking fees, or variations in gas mileage for different types of cars.
These calculations are based on an annual study of the fixed and variable costs of operating an automobile. Runzheimer International, an independent contractor, conducted the study for the IRS. The cost of driving is based on the distance driving between your start and end addresses, multiplied by the standard cost per mile that tax regulations allow businesses to deduct.
Cost of fuel
Google Maps can provide the estimated fuel cost for your next road trip. Fuel costs for your journey are displayed just under the driving directions. Clicking on the price opens up options to specify vehicle and fuel type, as well as change the fuel price.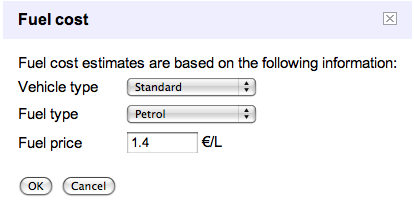 Fuel cost availability
Fuel cost estimates are currently only available if your entire journey is exclusively through the following countries: Austria, Belgium, Bulgaria, the Czech Republik, Cyprus, Denmark, Estonia, Finland, France, Germany, Holland, Hungary, Ireland, Italy, Latvia, Lithuania, Luxembourg, Malta, Poland, Portugal, Romania, Slovakia, Slovenia, Spain, Sweden and the UK.
For example, if you travel from Poland to Germany without traveling through any other countries, we'll be able to calculate the fuel costs for your entire route. However, if you travel from Poland to Ukraine, we won't be able to calculate the fuel costs for any part of the route because the feature is not available in Ukraine. We are hoping to make this functionality available in more countries in the future.