My Places
This article is for the classic Google Maps. If you have opted-in to the new Google Maps, please refer to
this article
.
About My Places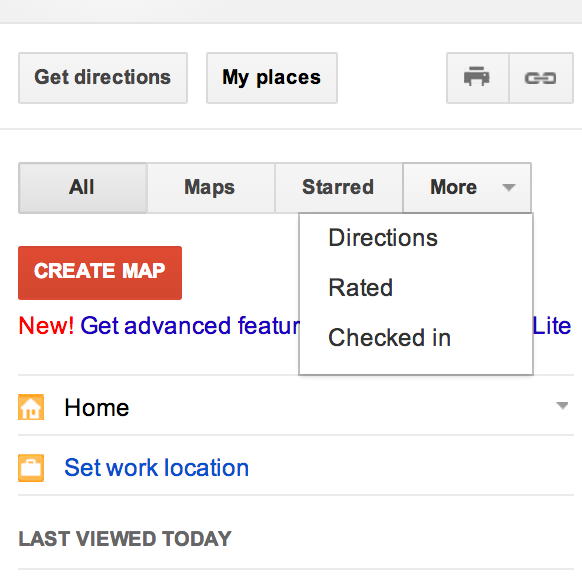 My Places makes it easy for you to organize content relevant to you on Maps. This includes:
My Maps - Maps you've created to share information with others. Learn how to create a map.
Starred locations - Landmarks, businesses, or addresses that you've starred, which you can quickly refer back to. Read more about starring locations.
Ratings - Businesses you've rated and reviews you've written.
Check ins - Locations where you've previously checked in.
Web history - Locations or directions you've searched for or viewed in the past, when Web History is enabled. You can pause or enable Web History from your Web History page.
How to use My Places
To access your content, click on the My places button. If you're not logged in to your Google account, you'll be prompted to sign in. Your content will appear in the left panel.
Click the tabs at the top to see specific types of information:
Maps: See your My Maps, as well as custom maps you have created in Maps Engine Lite (Beta). Maps Engine Lite is a new mapping tool where you can import locations from a spreadsheet, use layers to visualize different types of content, or simply draw and add places, lines, and shapes.
Starred: See your starred locations in a list.
Your ratings, check ins, and directions will appear under the More menu.
Personalize your map in Google Maps.
To delete content, click on the drop-down arrow to the right of any item. Note that deleting information from the My places tab will also permanently remove it from any related activities. For example, deleting a rating from this list will also remove it from your Google+ Local ratings.