Getting to know Google Maps
This article is for the classic Google Maps. If you are using the new Google Maps, please refer to
this article
.
The following diagram describes some of the features available in Google Maps for desktop. Not all features may be available in all regions.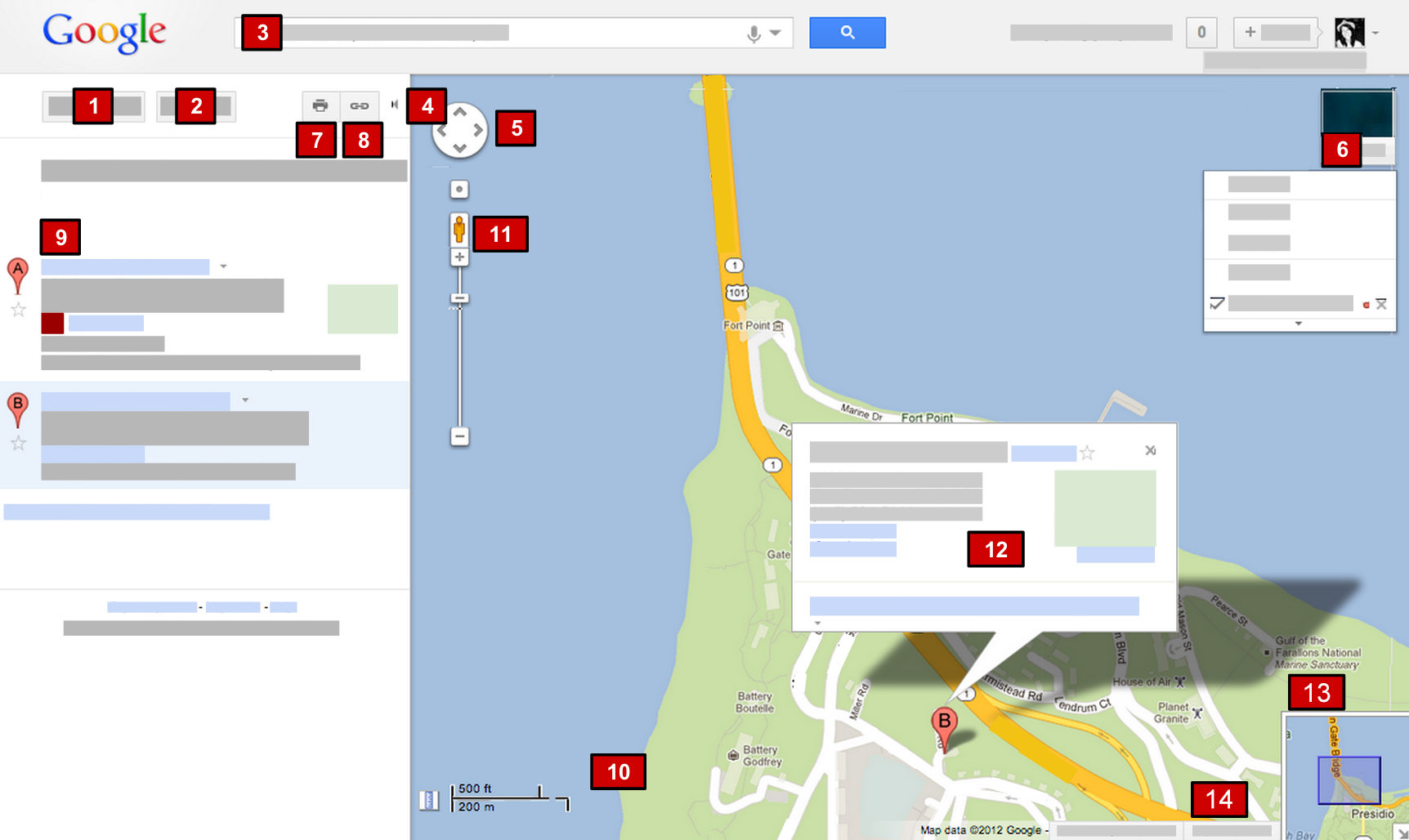 Get directions - Need to get somewhere? Click for driving, walking, biking, or public transportation directions.
My Places - Create your own maps, view your starred places, and see which businesses you've reviewed.
Search Maps - Search for places, businesses, intersections, addresses and more on Google Maps.
Show/Hide - Click the left arrow (<<) to hide the left panel, and the right arrow (>>) to show the left panel.
Navigate the map - Click and drag the map to pan or use the arrows. Drag the zoom slider up or down to zoom in or out incrementally.
Layers - Hover over the widget in the righthand corner of the map to view available layers on the map, such as traffic, photos, and more.
Print/Send - Print out a map or send maps to other people.
Link to this page - Create a web address (URL) for your map that can be easily shared with others.
Search results - You'll find your search results in the lefthand panel. Click any result to view more information.
Map - The Map will show a geographical area with corresponding search results and other information from that place.
Street View - Drag the yellow pegman on the map's zoom controls to a place on the map to view and navigate street-level imagery.
Info window - When you click a red info window will appear that that displays additional information about a particular place.
Overview Map - See your current map view (in the purple box) in the context of a larger geographical area. At any time, click to hide the overview map or click to display it again.
Report a problem - Help to make Google Maps better by reporting data or product issues.
Other ways to view Google Maps
You can also view Google Maps one of several other ways:
You also have the option to view the map and its layers in your preferred language for either Chinese, Japanese, Russian, Korean, Ukranian, or English. Learn more about all of the available layers in Google Maps.
If you need more help, visit our Google Maps Help Forum to learn from other Google Maps users by asking questions and sharing answers.
Related articles