Get directions
This article is for the classic Google Maps. If you have opted-in to the new Google Maps, please refer to
this article
.
Get directions to where you want to go using the classic Google Maps.
In the search field, enter a from-to statement (example: from New York to San Francisco) and click the magnifying glass Search button.
Click Get directions, enter a starting and ending point, and click Get Directions.
Right-click on the map to get directions to or from that place.
Get directions using search results:

Do one of the following:

Click a marker in the map.
Click a search result in the left panel

In the info window, click Directions.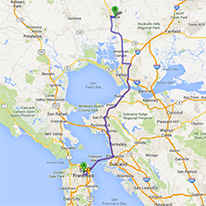 Directions appear on the map as a purple line. If there are multiple results for any of the waypoints specified, Maps will automatically select what it thinks is the correct choice. If we get it wrong, click the hyperlink at the end of the "Did you mean..." statement that appears underneath the listed endpoints.
Google Maps breaks down directions into numbered sections in the left panel, along with an estimated drive time. You can click on any numbered section to skip to that place on the map.
Where available, highway exit numbers are marked with an appropriate icon. Example:
In certain places, you can view street-level imagery of your driving directions. View street-level imagery by first clicking on one step of the route and then clicking on the Street View pegman icon.
You can change your mode of transportation by clicking the icons that represent either driving, transit, walking, or biking. Learn how to get walking, biking, and public transit directions.
Once you have gotten your directions, learn how to print directions.

Other tips and tricks:
Add multiple stops on a single route by clicking Add destination in the left panel. You can also right-click an area on the map to add a destination.
If you create a trip with multiple destinations, you can reorder them by clicking and dragging the green labels associated with each address at the top of the left panel.
To customize your route, click and drag any point on the purple directions line to any place on the map. Google Maps immediately re-creates the directions on both the map and left panel, and also updates the estimated travel time and distance.
Avoid highways or toll roads by clicking Show options in the left panel and selecting the appropriate checkbox.
To change the distance units for your directions, click Show options then km (kilometers) or miles. The selected units will appear in black and bolded.

Note: Directions searches might not be available in all regions.
If you're a business owner, you can even add a Driving Directions gadget to your website. This makes it fast and easy for customers to get customized directions to your business. Learn more.