Road priorities
A road's Priority indicates the type of traffic that the road handles, its physical geometry, and its connectivity. Some roads are bigger, support more traffic, and are more universally recognized than others.
By setting road priority, you can improve Google Maps directions and help display roads more accurately on the map.
Freeways
Freeways are the highest Priority roads, with high traffic capacity and high speed limits. These roads are quite broad and can be easily identified when zoomed out in satellite imagery.
See an example of a freeway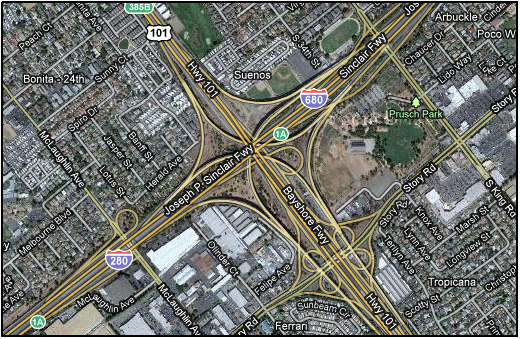 How to identify a freeway:
No crossroads, stops, or at-grade intersections.
Accessible only through Ramps or Highway Interchanges. A Freeway ends at the first intersection that allows non-ramp access to the road.
Dual-carriage, split road, with a minimum of 4 lanes.
Walking or biking not allowed, except in rare cases such as California in the U.S.
Expressways
Expressways are high quality roads with few intersections that usually traverse an entire region. These roads are usually quite broad and can be easily identified when zoomed out in satellite imagery.
See an example of an expressway.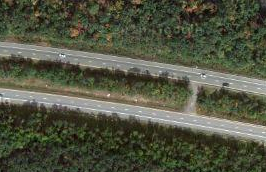 How to identify an expressway:
Accessible from both Ramps and intersections, although intersections should be relatively rare and widely spaced.
Walking or biking not allowed, except in rare cases such as California in the U.S.
Either single or dual carriageway depending on the country.
National highways
The National highway connects all States, Provinces, and important administrative territories of a country.
How to identify a national highway:
Typically has a greater range than Regional roads.
Usually a two-way road with a few intersections.
Often numbered (e.g. US-101).
Regional highways
Regional highways act as connectors between National highways. These roads are sometimes also referred to as Secondary highways.
How to identify a regional highway:
Forms the "web" between National highways.
Funnels traffic in urban areas from Major or Minor artery roads to National highways.
Traverses shorter distances than National highways.
Major artery
Any moderate or high-capacity road in an urban area can be classified as a Major artery. They support large traffic volumes and also act as city entry or exit points.
How to identify a major artery:
Carries traffic between neighborhoods and towns.
Non-residential road with popular destinations such as restaurants or gas stations.
Typically has crossroads and traffic signals.
Does not have exit and entry ramps.
Minor artery
A Minor artery usually facilitates traffic flow from one Major artery to another or collects traffic from local roads and distributes to Major Arteries.
How to identify a Minor artery:
Typically doesn't traverse large distances.
Provides the fastest routes to residential areas of a town.
Partially residential road with local destinations such as schools or parks.
Local road
Local Roads have low speed limits and usually carry low volumes of traffic. Traffic from Local roads is funneled to roads of higher Priority. Connector segments on split roads are also assigned Local Priority.
How to identify a local road:
Usually residential with low speed limits and traffic volumes;
Connector segments on split roads are also assigned Local Priority.
Terminal Road
Terminal Roads are public access destination roads such as parking lots, alleyways, apartment complexes, and other narrow roads in dense areas. General traffic shouldn't be routed through these roads due to certain restrictions, quality and size.
Driving directions will only route through a Terminal road if your start or end point is located on that road or another adjoining Terminal road.
How to identify a Terminal road:
Dead end and low-use roads in residential areas.
Low-volume roads in high density urban areas.
Roads within enclosed, low-traffic volume areas, such as camping grounds or apartment complexes.
Roads that are behind "No Outlet" signs, or other signboards that indicates an area does not have through connectivity.
See an example of a terminal road.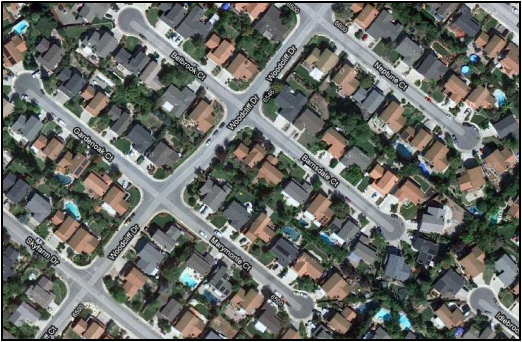 No auto traffic
Traffic on No auto traffic priority segments is limited to pedestrians and bicycles. Examples: include pedestrian malls, bus-only lanes, and emergency access points.
How to identify a No auto traffic road:
Physically blocked for vehicular traffic at all entrances.
Some are blocked at one end to allow passage of pedestrians and bicyclists, but not vehicles.
High priority road criteria
There are many ways to assess road's priority. Consistency, speed, connectivity, capacity/lanes, usage, and administrative/official designations are all factors. Here are some of the important ones:
Consistency: The priority should be consistent throughout the road network and should not change over short distances. The priority of a road network shouldn't be upgraded or downgraded when the high priority road passes through a city
Connectivity: A road should always connect to other roads having the same priority or higher. Exceptions- A high priority road can end at:

a roundabout.
ramps.
low priority roads when there are no roads to extend. Example: Coastal region/ Airports.

Administrative/official designations: Many highways may have official designations or administrative classifications which label them differently. Although there may be shared terminology between road priorities and administrative labels, the definitions of the terms are frequently very different.