Getting started guide
Map Maker interface
Here's the basic layout of the Map Maker interface: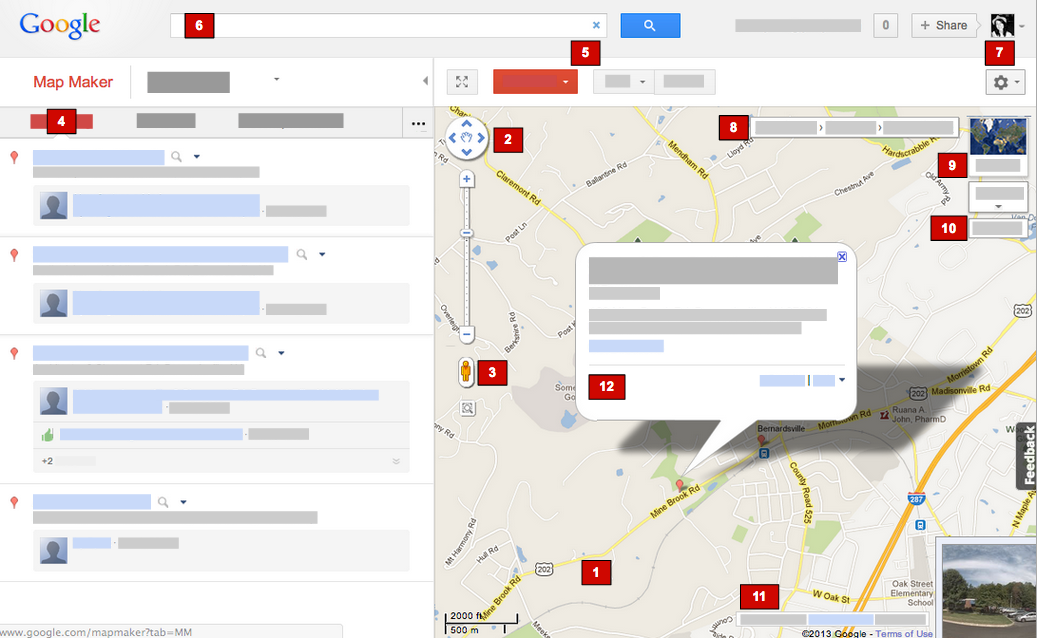 Viewport: The viewport is the map that you currently see.
Navigation controls: Zoom in and out or move around the map. You can also click and drag to move the viewport.
Street View: An orange pegman indicates that street-level imagery is available; a grey pegman indicates that it's not available.
Left panel: The left panel displays information about updates, edits and directions related to the current action you're performing. Learn more about the left panel.
Toolbar: The toolbar allows you to add new places, lines, outlines, or features. You can also use it to browse or edit existing features.
Search bar: Find businesses, schools, and other places of interest.
Settings: The settings menu allows you to quickly access important links like your profile or your Map Maker settings.
Location bar: Displays your current location based on the area represented by the viewport. Available at the top right of the viewport, you may need to zoom in to view this information.
Layers:Hover over the widget in the righthand corner of the map to view available layers for your location, such as satellite, map, photos, and pending roads or places. more. Learn more about all of the available layers in Google Maps.
Overlays: Add your own maps and images on top of the regular map.
Map contributors:Hover your mouse pointer over the contributors' names in the right bottom corner of the viewport to view stats for top contributors to an area.
Info window: When you click a feature, an info window will appear that displays additional information.
Markers on the map
Markers appear in Google Map Maker to indicate a location or address on the map.
| | |
| --- | --- |
| &nbsp&nbsp&nbsp&nbsp&nbsp&nbsp&nbsp | Indicates the location of a published place or address on Map Maker |
| | Indicates the location that's pending review |
| | Indicates the starting point and destination point for a route when you request directions |
| | Indicates a published place when you browse the map |
| | Indicates the location of pending places when you browse the map |
| | Indicates the location of line features such as roads, rivers, railways, and trails |
| | Indicates the point where one section of a linear feature connects with a neighboring section |
| | Indicates the location where a line feature ends |
| | Indicates a feature that has been removed from the map, or the previous location of a place |
| | Indicates that the accuracy of a place on the map is either "Coarse" or "Very rough |