Insert images into your messages
Bring your messages to life with inline images. Inline images appear within the body of your email, unlike attachments which show up as thumbnails at the bottom of your message.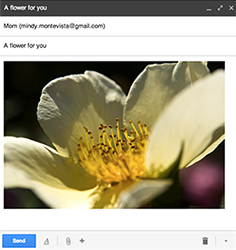 Open Gmail.
Click Compose.
Hover over the + icon.


Click the camera icon.


Choose a file and click OK.
You can also drag and drop images directly into the compose window, or simply copy and paste.
To resize or remove an image, click the image and choose one of the options directly under the picture.
Tip: Sharing photos
If you're trying to share photos so that the other person can save them, consider adding the photos as attachments instead. Photos added as attachments are easier for the recipient to download and share. Learn more about adding attachments.
Note
: The maximum file size for an inline image is 10 MB. For larger files, attach the image or
insert using Google Drive
.