View your Analytics data with a single click.
You can view Google Analytics audiences, acquisition, and behavior data directly from within the Universal Analytics interface.
Note: currently this feature is only available for Universal Analytics Web properties. Google Analytics 4 properties don't have this feature.
Click Admin, and navigate to the account/property/view you wish to visualize.
Navigate to Customization > Dashboards or Customization > Custom reports.
At the top of the page, click one of the links to open a Looker Studio template populated with your data.
In a moment, you'll see the data from your current view in a polished Looker Studio report template.
Use the template
Here are some things you can do with the template:
Use the filter controls at the top to refine the data. For example, set the Continent to North America, the Region to California, and the Channel to Direct, Organic Search, and Social.
Change the date range. For example, use the preset options to select the last 7 days, or set a custom date range.
Interact with the charts by using your mouse to explore the data. For example, some charts let you drill down by clicking a dimension value, or add optional metrics by selecting them from the chart header.
Filter the report by clicking a slice in a Pie chart, or a bar in a Bar chart.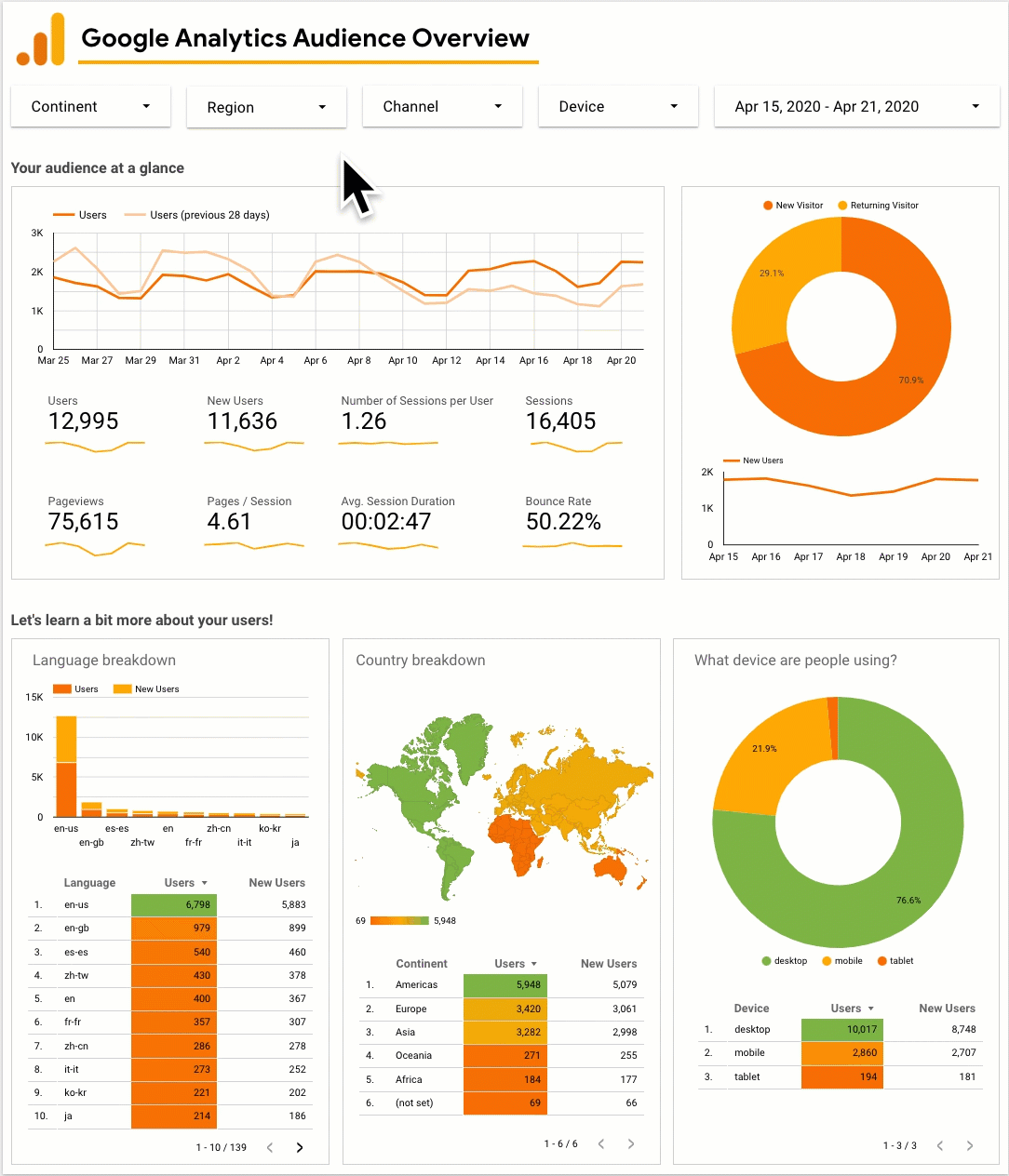 Customize the report in Looker Studio
To customize this report or share it with others, in the upper right, click Edit & Share.
If this is your first time connecting to Looker Studio, you'll need to authorize access and agree to the Terms of Service.
In a moment, you'll see the template opened in the Looker Studio visual editing tool. You are now the owner of this report, so you can add or change the charts, add pages to the report, and share the report with others.
To find your report later, visit lookerstudio.google.com.