Add Google Search Console metrics and dimensions to your Looker Studio reports.
Google Search Console is a free service that helps you monitor and maintain your site's presence in Google Search results.The Looker Studio Search Console connector helps you measure and analyze your site's performance on Google Search. You can easily extend those reports to include data from other sources, such as Google Analytics and Google Ads, to give you a more comprehensive view of your online presence.
In this article:
How to connect to Search Console
In the top left, click then select Data Source.
Select the Search Console connector.
If prompted, click AUTHORIZE to let Looker Studio access your data.
In the Sites panel, choose the site to which you wish to connect.

If you're not seeing a Search Console property that you own, make sure that you are signed in to Looker Studio and Search Console with the same Google account, and that you have at least view permission on the property.

In the Tables panel, choose either Site Impression or URL Impression.
In the Search Type panel, choose the default search type. See the Notes for more details.
In the upper right, click CONNECT.

The data source fields panel appears.
The data source is now connected to your data set.
Configure the data source
The data source fields panel is where you configure the data source by renaming fields and adding descriptions, adding calculated fields, and changing data types and aggregations. Learn more about working with data source fields.
Control who sees the data
At the top of the fields panel, you can change the data credentials. Credentials control who can see the data provided by this data source.
OWNER'S CREDENTIALS lets other people view or create reports that use this data without requiring them to have their own access to the data set.
VIEWER'S CREDENTIALS, on the other hand, requires each user of the data source to provide their own credentials to access the data set.
Learn more about data credentials.
Create a new report from the data source
In the upper right, click CREATE REPORT.

The report editor appears.

Click ADD TO REPORT.

This adds the data source to report.
You can now create charts and controls that get their data from this data source.
New to Looker Studio?
Take the Create a report tutorial. Or learn more about the report editor.
Notes
Tables
Google Search Console uses 2 different aggregation methods for reporting on search performance: site impressions and URL impressions. The Search Console connector gives you access to both these methods however a single data source can only use one of these. (To see your site impressions and URL impressions side by side, create 2 data sources and add both to a single report.)
Learn more about aggregating data by site vs. by page.
Search types
The Search Console connector supports the following search types:
Table
Search type
Site Impression
URL Impression

web
image
video
news
discover
googleNews
Search type parameter
Data sources created with the Search Console connector provide you with a Search type parameter. You can use this parameter to let report viewers change the search type. To do this:
In the toolbar, click Add a control, then select the drop-down list control.
On the right, in the properties panel, select the SETUP tab.
Click the Control field and select the Search type parameter.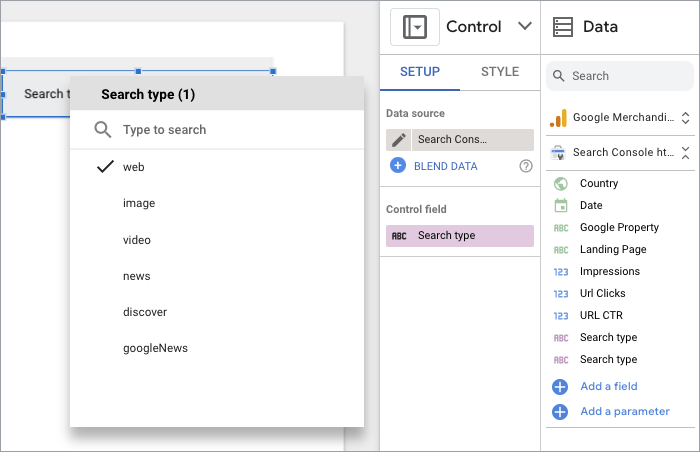 Query field
The Query field lists the search terms used by your property's visitors. To protect user privacy, Search Analytics doesn't show all data. For example, Google might not show some queries that are made a small number of times, or those that contain personal or sensitive information. In this case, Looker Studio may aggregate these queries into a single row with a blank value. You can remove blank rows from your reports by using a filter in your report to exclude null values from the Query dimension:
Let viewers select their account
Want to use this data source with different accounts? Try adding a data control.
The data control gives report viewers a way to select the account that provides the data they want to see in a report. This can eliminate the need to create separate reports and data sources for your various accounts. Learn more.
Get started quickly with a report template
Templates let you visualize your data in a finished report. Use these reports "as is" or customize them to fit your unique requirements. To find the latest template for Search Console, visit the template gallery and select the Search Console category.
Related resources