Scanner overview
Scanner overview
The Scanner is the core technology of your phone. It can detect Portals and interact with Exotic Matter (XM) as well as XM constructs, such as Resonators and XMPs.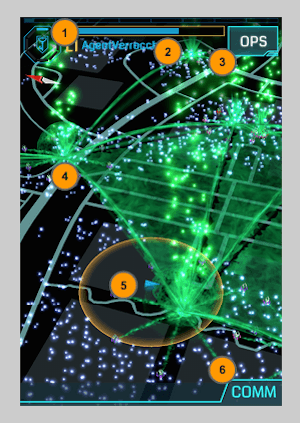 Access Points (AP) and Level: The number of bars around your avatar represents your current level. Your AP meter is shown in the bar above your XM meter. As you gain AP, this meter fills up.
Exotic Matter (XM) meter: XM powers your scanner and allows you to take actions (Hacking Portals, Deploying Resonators, Linking Portals, etc.) Walk around to gather XM. XM is visible as glowing particles on your Scanner.
OPS menu: Touch OPS to access your Inventory, Agent profile, training missions, and other Scanner settings.
Portal: An XM construct that supplies items when hacked. Link 3 Portals to form a Control Field. Resistance Portals are blue, Enlightened Portals are green, and neutral Portals are grey.
Agent position and action range: Your position is indicated by a blue or green arrow. The circle around you is your action range, which indicates the area where you can take action (e.g. a Portal must be in your action range to hack it).
COMM: Communicate with other agents by swiping up on the COMM tab.