Mobile Overview
Hire on the go with the Hire mobile app! The beta version of the Hire mobile app is available on iOS and Android platforms. With the mobile app, you'll be able to:
Get real-time updates and review applications directly on your mobile device.
Collaborate with your team and reply to important comments.
View new candidates and feedback, and stay prepared for upcoming interviews.
Communicate with candidates with a phone call or email wherever you are.
Benefits
Don't miss candidate updates
Set up notifications to stay on top of time-sensitive updates so you don't miss candidate updates, like an upcoming interview. Click on these notifications to go directly to the mobile app so you can stay up to date with your hiring process.
Take action on time-sensitive issues from anywhere
The Hire beta mobile app makes it easy to respond to urgent messages. Stay prepared for upcoming interviews with notifications about schedule changes or declined interviews.
Get repetitive tasks done faster and smarter
Quickly review new applications and change a candidate's application stage directly from your phone. With the Hire beta mobile app, you can quickly take care of repetitive tasks while you're away from your desk.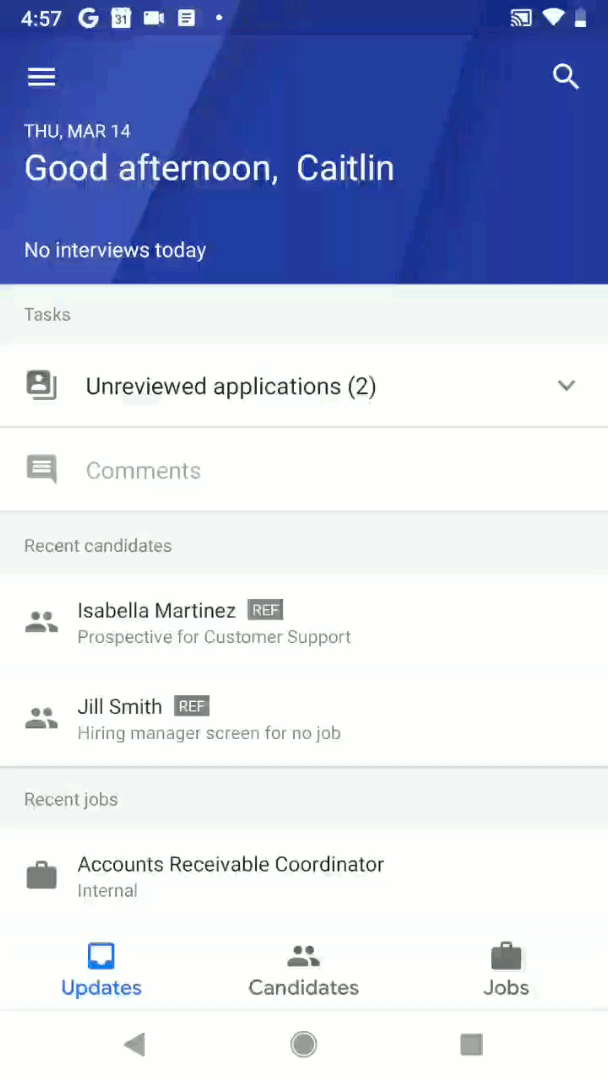 Quickly view and submit feedback
You can rate candidates and provide your feedback on-the-go.
Stay prepared for any interview
No laptop--no problem! The information you need, like a candidate's resume, is available in the palm of your hand to keep you prepared for your interview.
Quickly communicate with candidates
Pull up the beta mobile app to quickly make a phone call without having to search for a candidate's phone number. The Hire beta mobile app makes it easy to send and reply to emails with just a few clicks.
Download the Mobile App [beta]
[beta] iOS
If you're using an iOS device, you can find the steps to download the app here.
[beta] Android
If you're using an Android phone, you can download the app by visiting Play Store and searching for Hire by Google, or by visiting our Play Store link directly from your phone.
Was this helpful?
How can we improve it?