Sources report
This article is for Admins and Reporters.
The Sources report is designed to answer questions like:
Which sources produce the most applications and most hires?
Which sources are the highest quality measured by percent of candidates who advance to screen, interview, or offer?
This report allows you to analyze which sources are most effective for hiring candidates. You can use this information to adjust the amount of time and money spent on different sources, such as job postings or referrals. You can use filters to narrow down your results by application date range, job, recruiter, hiring manager, application source, application source detail, and you can also choose to exclude open jobs.
Hire preserves the candidate's original sources unless it's manually updated by a user. So, for example, if a candidate was referred by an employee but they were already in Hire sourced rom a job board, their source will reflect the job board.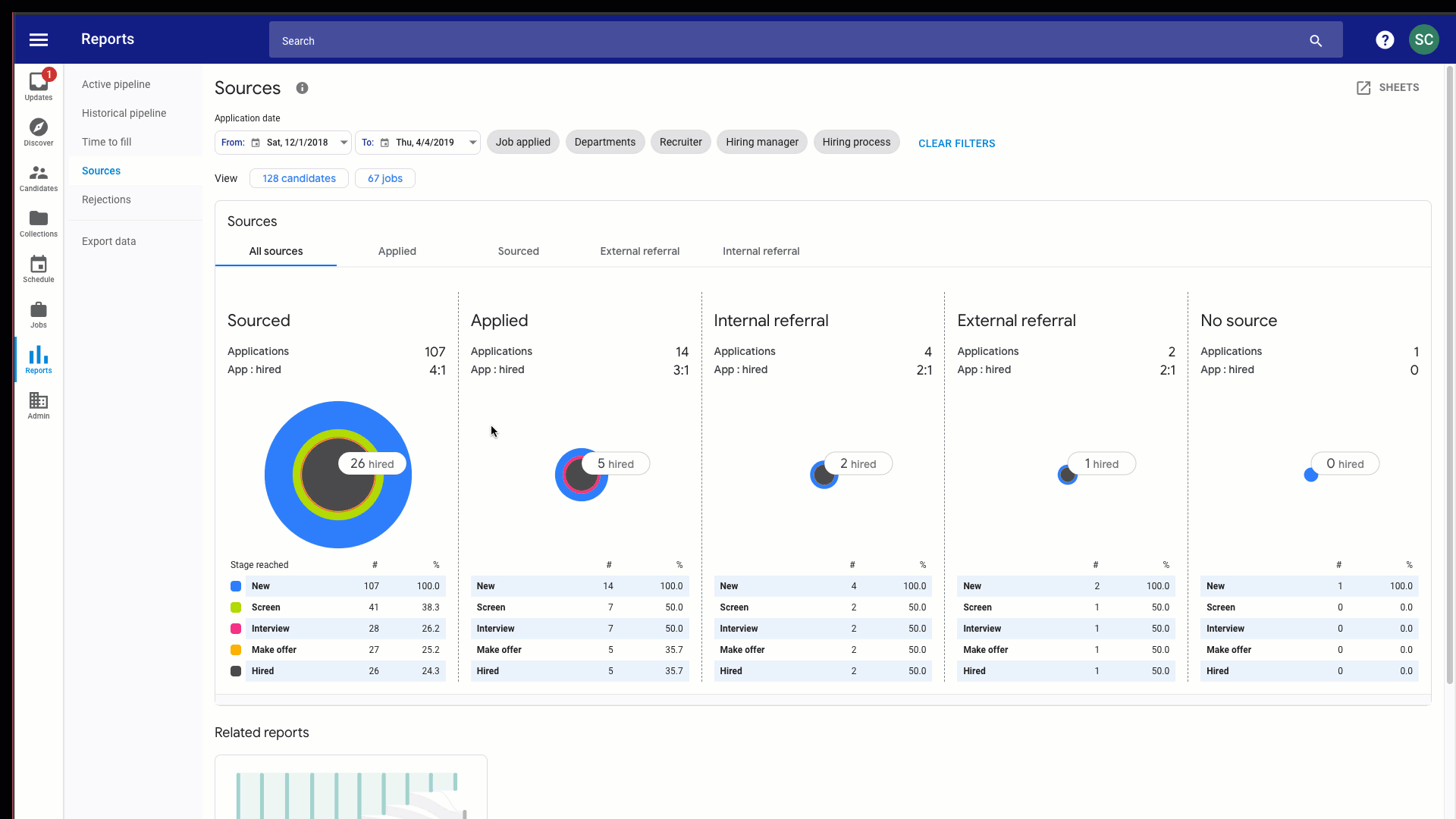 Updates to jobs and candidates can take up to 24 hours to be reflected in reports but are typically reflected within an hour.
Reports only show candidate applications that you can access based on your
system roles and job permissions
. Contact a Hire Admin for reporting on all candidates.
Export report
Sign in to Hire.
On the left, select Reports Sources.
At the top, select a date range.

To the right of the date range, select any filters you'd like to apply to the report.

Select Sheets to export your report data.
To export a report, pop-up blockers need to be disabled and Hire needs to be connected to Google Drive.
Here's what's new
The Sources report replaces the Source efficiency report. Now you can:
See the overview of all your candidate applications at a glance

View custom hiring stages when you've filtered to jobs that all have the same hiring process.

Hovercards help you gain a better understanding of your reporting data and allow you to easily view the candidates represented in a specific part of a chart.
Was this helpful?
How can we improve it?