User permissions
Permissions overview
User permissions in Hire are determined through a combination of roles. Roles are broken into three groups: System, Hiring team, and Contributor. System roles are used across the app, while Hiring teams and Contributors are unique to each job. Users are assigned System roles depending on the amount of access they need within Hire. User access to a specific job and/or candidate is determined by whether they're on a Hiring team or a Contributor.
System Roles
Hire Admins are responsible for assigning users System roles. Assigning the appropriate System role to a Hire user helps maintain safeguards around sensitive information.
Hire accounts are created automatically for all G Suite users for whom the service is enabled in the G Suite Admin console.
Regular G Suite users from your company are imported without an assigned role in Hire. These users can only log in and see a list of open jobs.
Only Hire Admins can assign System roles to users.
Note: Users can have multiple System roles
Admin

Has access to all features in the Admin tab, and can manage every aspect of your organization's account. Admins also have full access to all candidates and jobs.

Admins have permissions to:

View and edit all candidates and jobs
Configure company settings
Create jobs
Create candidates
Assign any candidate to a job
Create and run reports for all candidates in the system

Note: At least one Hire user needs to be an Admin. An Admin is assigned to your organization upon activation of Hire.

Job creator

Has full access to all jobs in Hire.

Job creators have permissions to:

Create new jobs
Assign a candidate (that they have access to) to a job

Sourcer

Can see candidates and source prospects for open jobs.

Sourcers have permissions to:

View and start new processes with active/rejected/hired candidates
View and edit all candidates, except hired candidates past their start date
Assign any candidate to a job
Use Candidate Discovery to find candidates

Reporter

Can create and export reports.

Reporters have permissions to:

Access the Reporting tab
View and export reports on candidates and jobs (that they have access to)

Compliance reporter

Can access EEOC/OFCCP data collected from candidate applications.

Compliance reporters have permissions to:

Access and export diversity data to a CSV file or Sheets
Hiring team and Contributors
Hiring team
There are three roles on a Hiring team: Hiring manager, Recruiter, and Coordinator. Every job in Hire has its own Hiring team. Users can be assigned to a Hiring team when a job is created or added to the job at a later date.
Hiring managers and Recruiters - Can fully manage the job and all candidate applications for the job. Can see sensitive information about candidates.
Coordinators - Can fully manage the job and all candidate applications for the job. Can't edit the Hiring team and see or add comments restricted to Recruiters and Hiring Managers.
​Contributors
Users who aren't on a Hiring team can be granted partial access to a specific application as a Contributor. Interviewers automatically receive partial access to a candidate's application after they're scheduled for an interview. Users who are @mentioned in a comment on a candidate profile or are a recipient of a start date alert are also granted partial access.
Contributors can be managed directly from a candidate profile and their access can be revoked at any time.
User roles chart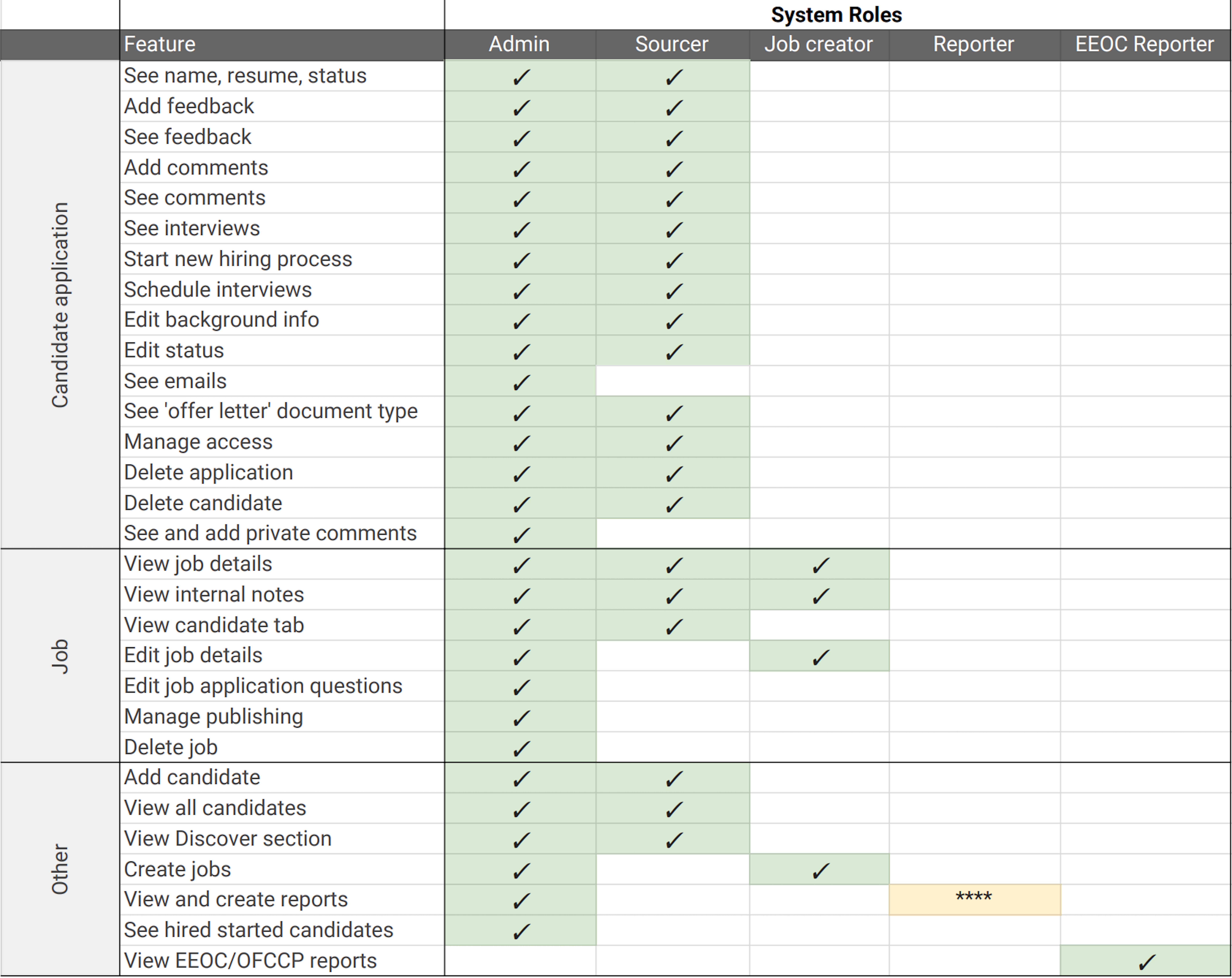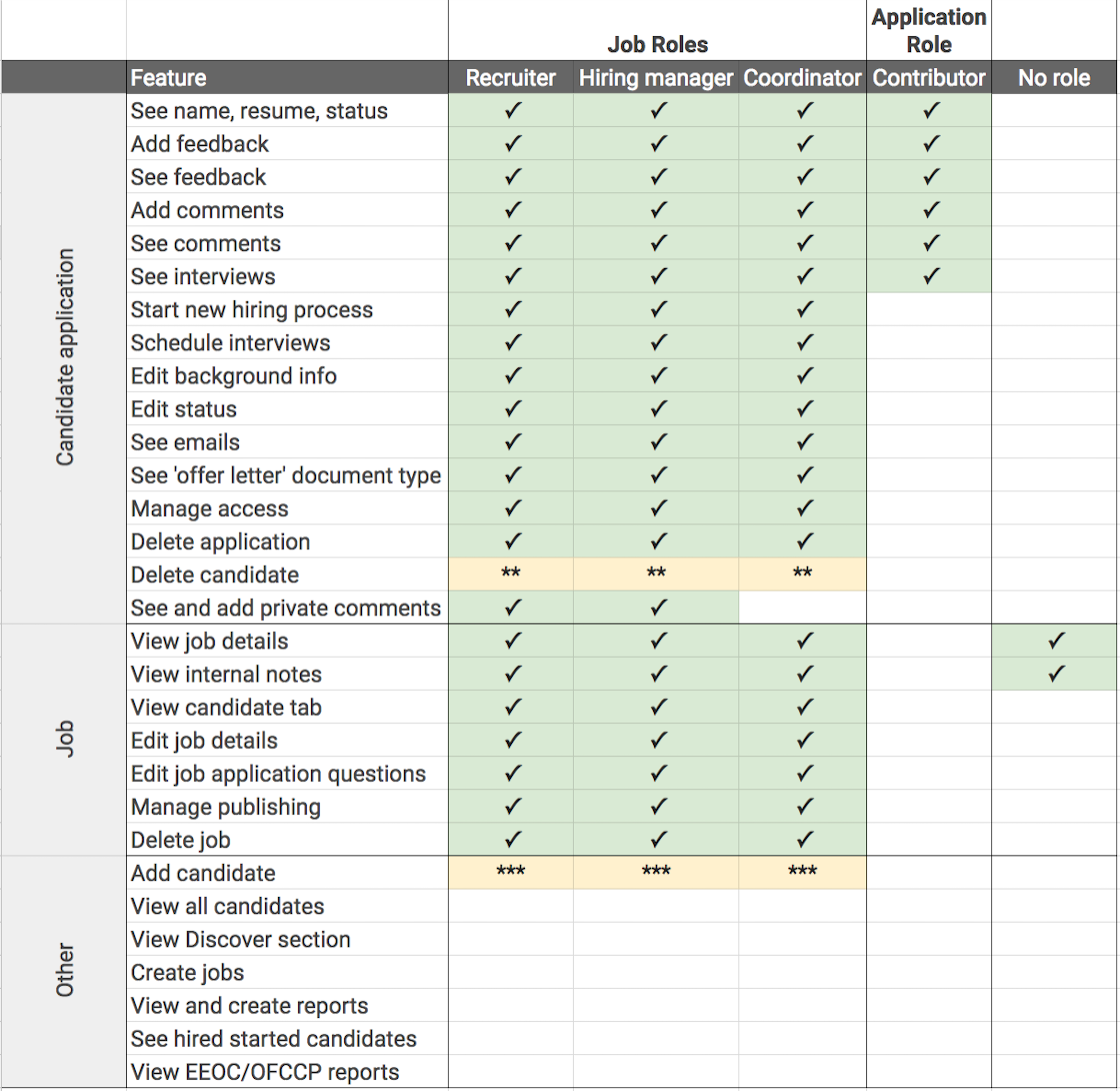 **If user has access to all the jobs a candidate has applied to
***Can only add candidates to jobs they're assigned as a Hiring team member
****Can only view and create reports that include candidates they have access to
Access levels to a candidate application
A user's access to an individual candidate application is determined by the combination of their System roles and if they're on a Hiring team or a Contributor.
Unlimited access: Full access to a candidate application
Extended access: Can edit and manage a majority of a candidate application, but can't see confidential info
Partial access: Can see basic candidate details, but can't edit them. Can add and see comments and feedback, but can't see confidential information (emails, restricted comments, etc.)
Access levels chart
*If user has access to all the jobs a candidate has applied to
**Coordinators can see emails, Sourcers cannot