Candidate Discovery enables companies to use the power of Google Search to evaluate their database of candidates and uncover talent that might be a fit for their current openings.
Hire by Google helps you match prior candidates with new jobs with a new candidate sourcing feature
How Candidate Discovery works
Simple search powered by machine learning: Candidate Discovery uses Google-powered algorithms to search for candidates without the need for complicated queries. With Candidate Discovery, you can use boolean strings to pinpoint candidates, but they're not required as search results will automatically include synonyms, acronyms, and closely related values. Learn more about what is searchable in Discovery.
Relevance-based rankings: Candidate Discovery's algorithms account for signals such as the candidate's fit based on their work and educational history. It also adjusts dynamically to incoming ATS signals, such as past interview scores, how far the candidate progressed through the hiring process on a previous application, or whether the candidate was referred.
Resume parsing: Candidate Discovery leverages the data Hire gathers from your candidates' resumes, highlighting the key elements that are most relevant to your search.
Quickly review resumes
Recruiters and Hiring Managers can quickly access candidates' resumes using Candidate Discovery search.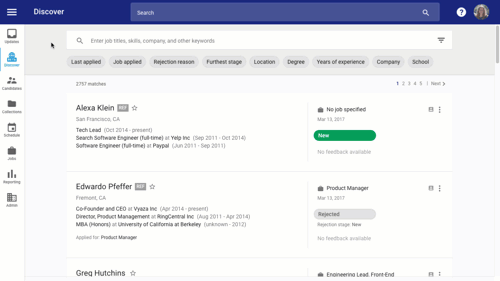 Take action on candidates
If a candidate is the right fit for a job, Hire makes it easy to email them directly from Candidate Discovery to see if they're interested, or contact fellow members of the Hiring team to comment on the candidate. You can also work faster by taking action on multiple candidates at once directly from Discovery with bulk options. Learn more.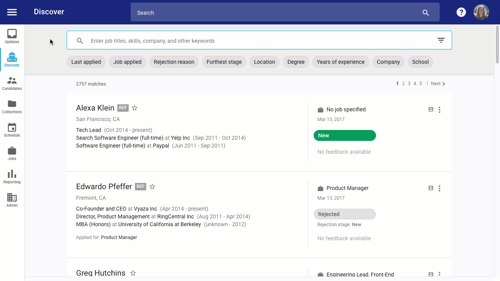 Related article