The updates homepage is your one central place for updates and alerts relevant to you. Don't miss updates wherever you are, check out what's upcoming and what has to be done-then start taking action directly from your mobile device.
Your daily schedule
On the updates page, you'll be able to see your interview schedule for the day and view updates relevant to you. Tap on the top of the screen to expand your upcoming tasks, or tap Show schedule to quickly your schedule for the day.
Review new applications
The Hire app shows you all unreviewed applications for jobs you're on the hiring team for so you can easily view, reject, or advance candidates on the go.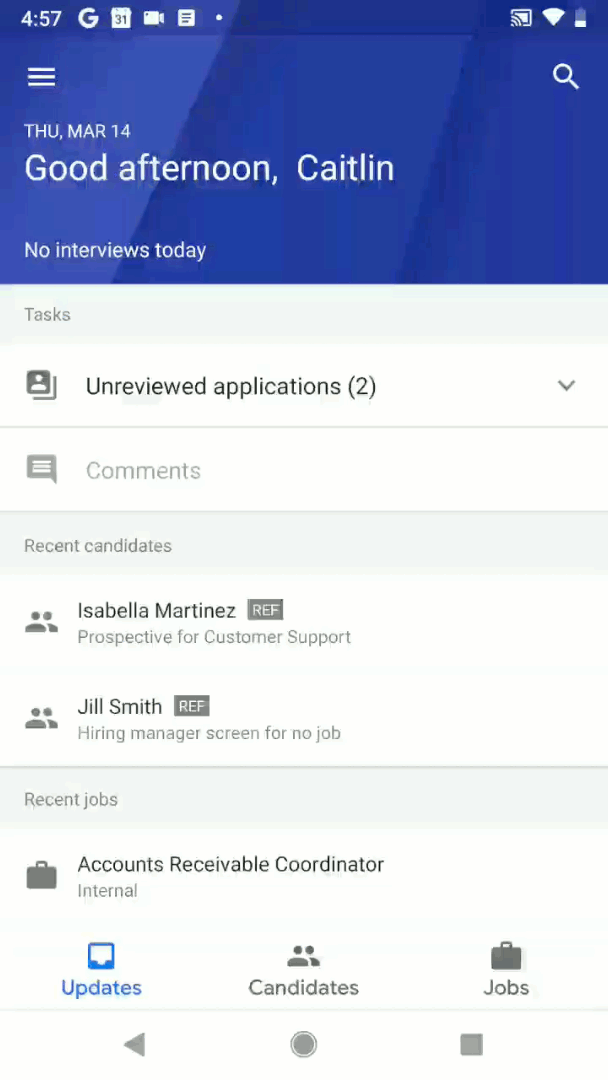 Take action
You can respond to comments you've been @mentioned in and view and leave feedback left by other members of the hiring team directly from the updates page on your mobile device. You can also approve or reject jobs and offers if you are sent an approval request.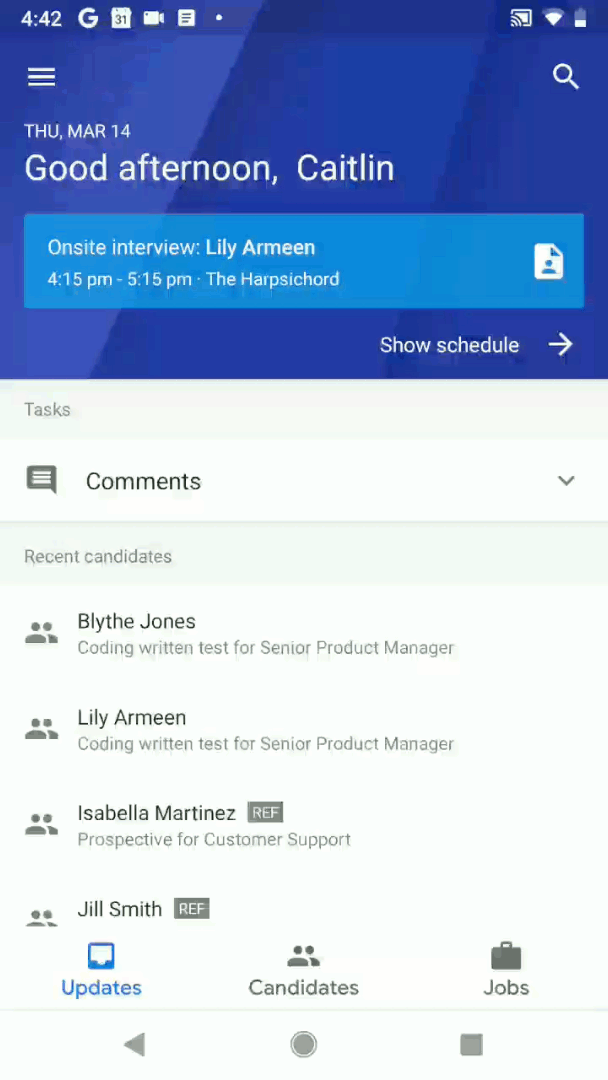 Recent candidates and jobs
You can view your recent candidates and recent jobs directly on the homepage. If you view a candidate's profile on web or mobile, they will appear under "recent candidates." If you view a new candidate's resume but don't click on their profile, they will not appear under "recent candidates."
More information on the updates page
| | | |
| --- | --- | --- |
| Tap... | To see this | To close... |
| Agenda (Header) | Shows upcoming interviews. Select "Show more" to show an expanded list of your schedule | Interviews will expire from the header once the interview has passed. |
| Declined interview | Shows if you have one or more declined interview by an interviewer or candidate. | You can swipe right to mark the item as done. Declined interviews will expire once you take action. |
| Comments | Shows comments you've been @mentioned it. | You can swipe right to mark the item as done. Comments visibility on your homepage expires after 5 business days. |
| Feedback | Shows recent feedback submitted for a candidate you are the hiring team for | You can swipe right to mark the item as done. Feedback visibility on your homepage expires after 5 business days. |
| Approvals | Shows if you have need to approve a pending job req or offer approval. | You can swipe right to mark the item as done. Approvals visibility on your homepage expires after 5 business days. |
| Unreviewed applications | Shows all the applications you haven't reviewed yet. | Only unreviewed applications will be shown on your homepage. Once you view an application, it will be removed from your homepage. |
| Referrals | Shows when a new referral is submitted | You can swipe right to mark the item as done. |
| Reminders | Shows if you have upcoming reminders for the week. | You can swipe right to mark the item as done. Reminders visibility on your home page expires after 5 business days. |