Updates home page
The updates page is your one central place for updates and alerts relevant to you. Begin your day here, check out what's upcoming and what has to be done—then start taking action from here.
Your daily schedule
On the updates page you'll be able to see your interview schedule for the day and view updates and alerts relevant to you. Updates are bundled by candidate. Select into a bundle to see important candidate activity - whether it's newly entered feedback, incoming candidate emails, or upcoming interviews.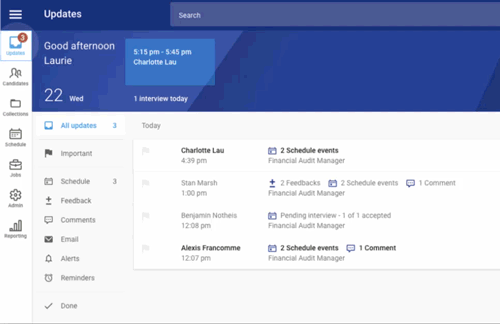 Take action
Begin taking action from your updates page. You can respond to comments you've been @mentioned in or even respond directly to emails from candidates.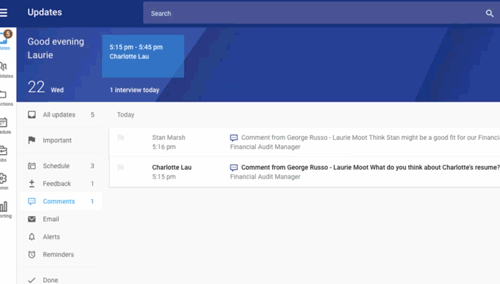 Use the candidate actions menu to email a candidate, schedule an interview, or use additional Hire candidate features.
Stay organized
As you complete tasks you can mark them as done by selecting the check mark
. This will clear the items from your updates page. You can view your list of completed items in the done tab.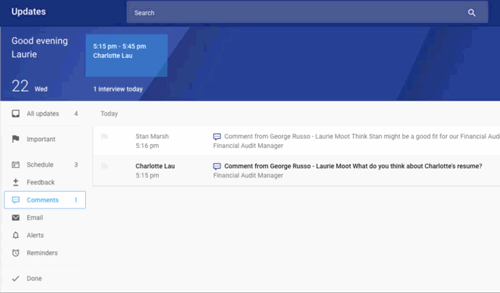 If there is something you need to keep top of mind, mark it as important by selecting the flag icon

. You can see all your flagged tasks by selecting into the Important tab.
More information about the updates page:
| Select... | To see this |
| --- | --- |
| Important | Shows updates you've flagged important. Select Flag again to remove from Important. |
| Schedule | Shows interviews you're scheduled for. Interviews for the day appear at the top of the Updates page. |
| Feedback | Shows a reminder for feedback you need to provide and updates on feedback submitted from your candidates' interviews. |
| Comments | Shows comments where you're @mentioned. |
| Email | Shows email messages to and from candidates (if Gmail is connected). |
| Alerts | Shows items that have been shared with you and notifications of new applicants for your jobs. |
| Reminder | Shows reminders you've set. select More to edit or delete the reminder. |
| Done | Shows updates you've marked Done . Select Done again to mark not done and move back to All updates. |
| Approvals | Shows approval requests and updates. |
Related articles
Getting started as a Recruiter
Getting started as a Hiring manager
Getting started as an Interviewer
Was this helpful?
How can we improve it?