Now you can do more—in less time.
---
View documents inline

Instead of seeing a thumbnail—and clicking to enlarge—now the candidate's resume is inline, next to the feedback panel. So whether you're taking notes or adding feedback, you can easily refer to the resume.
You can now view a resume inline from the candidate profile too—as well as open documents in full-screen view, download them, and print.

Save feedback automatically
No need to worry about losing feedback drafts anymore. All drafts are saved in real time.

Act faster, with Updates

Aggregated feedback scores—and other new info—now surfaces on the Updates page. And you can take immediate actions from Updates, like replying to comments. No need to head to the candidate profile anymore.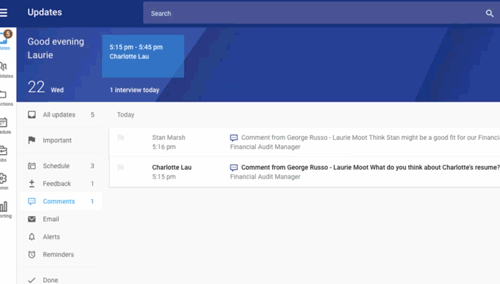 Reply to comments
View aggregated feedback scoresView aggregated feedback scores
See job pipeline stats easily

New filter navigation on the job pipeline page allows you to clearly see your job pipeline stats at a glance and quickly filter candidates with a particular status or stage.
Navigate more easily

A consistent back button on all Job and Candidate Details pages allows seamless navigation. And any filters you set on a previous page will persist.
Next and Previous buttons on Candidate Details pages enable you to review a set of candidates more easily.