Search for candidates
All Hire users can search for candidates via the Candidates tab. Select Yours to see candidates you're on the hiring team for, or select All to see all candidates, including candidates you're scheduled to interview or have been @mentioned about.
Hire users with admin or sourcer permissions also have access to discover, a candidate search powered by machine learning that ranks candidates using keywords like location, company, job title, or skills. Discover's algorithms account for signals such as the candidate's fit based on their work and educational history.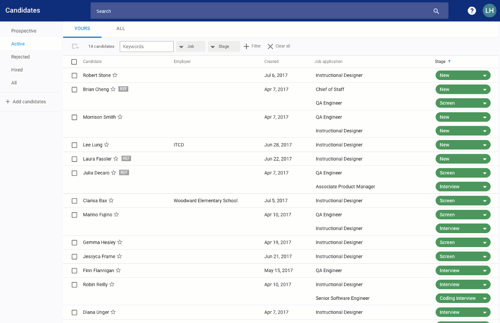 The candidate profile
Select a candidate's name to view their profile. A banner will appear if the candidate is involved in another hiring process with your company. You can edit the candidate's job, hiring stage, or status from this page. You can also view the hiring team members, or add the candidate to a collection.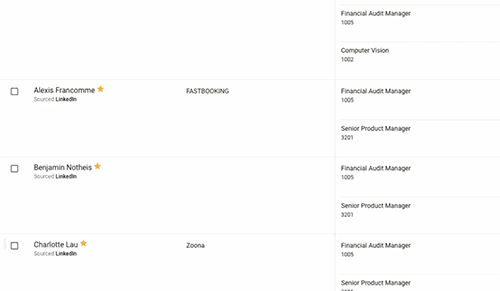 Click into the Background tab to view more information about a candidate's background and experience. Work experience and education will be automatically parsed from the candidate's resume. Edit these details by selecting
next to the item you would like to edit. Users can also find the candidate's contact information here.
Browse Google Search results for the candidate without having to leave Hire. Hire admins can choose to hide a site or add a custom site to the search. Users can edit the search by clicking the link next to "Showing results for" at the top of the search box. This will open a Google Search window where users can edit the query. If you have edit permissions, you can select "Save URL" to save a URL to the right hand panel of the candidate's profile.
View the candidate's recent Activity including emails and interview feedback, add and respond to Comments from the hiring team, and view the interview Schedule, all from the candidate's profile page.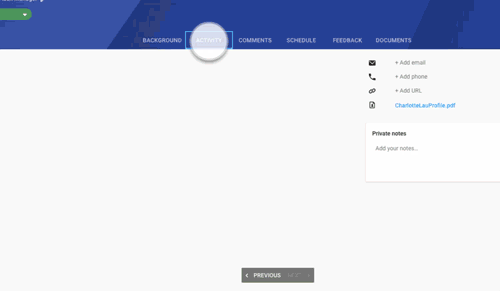 Select the Feedback tab leave interview feedback or to see what the rest of your team is saying. Keep things like resumes and cover letters in the Documents tab so the hiring team always has access.