Jobs page
Find the job you would like to view. On the job's page, you can view your candidate pipeline and update a candidate's status in the Candidates tab. You can view and edit important information under Job Details, including members of the hiring team and the job's hiring process. Select Description to view or edit the job description. Keep tabs on trackable posts under Publishing.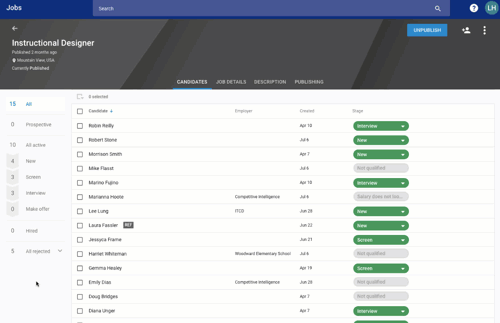 Review Resumes
Browse through all the resumes in your pipeline from the resume viewer. Select the application icon next to a candidate's name. This will leverage the document viewer you are familiar with from Google Drive and Gmail. From here you can:
Change the hiring stage.
Select Reject to reject the candidate.
Select right arrow to move from one candidate to the next.

Adding candidates
Add a brand new or an existing candidate to a job from the job's page. You can also publish, duplicate, close, or delete the job from here.
Bulk actions
You can work faster by managing multiple candidates at once directly from your job pipeline page with bulk options. Learn more.