Find a job
Filters
Sign in to Hire.
Click Jobs. All open jobs appear in the list.
(Optional) To filter the job list, on the left, click Open, Closed, or All Jobs.
(Optional) On the toolbar, above the list, sort and filter the list of jobs you see in the table.

Click Hiring manager and select a manager.
Enter Keywords to search more attributes without clearing the other filters.
Click and select a Filter to add additional filters. When you select an additional filter it appears inline with the other filters. Click X on the added filter to remove it from the current view.
At the far right, click Status and sort by job information (Job title, Req ID, Status, Department) or Days open.

(Optional) At the top, click Yours to see a list of all the jobs you're on the hiring team for (this doesn't appear if you're not on a hiring team).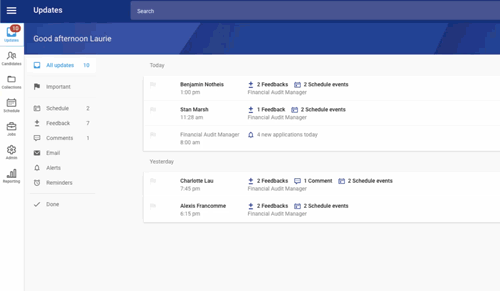 Search
You can click in the search box from any page. A suggestion panel will appear that shows recent searches. Click on one of these suggestions to repeat.
Start typing a new search to find matches among candidates, jobs, and users. Click into the bottom part of the panel to run a search within one area, such as Candidates or Jobs.
.
Was this helpful?
How can we improve it?