Filter
​Sign in to Hire.
Select Candidates.
(Optional) To filter the candidate list, on the left, click Prospective, Active, Rejected, Hired, or All.
(Optional) Select All or Yours.

All candidates you're on the hiring team for appear in the Yours list. Any candidate that you are scheduled to interview or have been @mentioned about will appear in the All list, or if you're a System Admin, all candidates in Hire will appear under All.

(Optional) On the toolbar, sort and filter the list of candidates you see in the table.

Above the list, select Job and check one or more jobs.
Select Stage and check one or more stages.
Select Add and select a Filter to add more filters.
On the toolbar, enter Keywords to search more attributes without clearing the other filters.
Click the headers to further sort your results.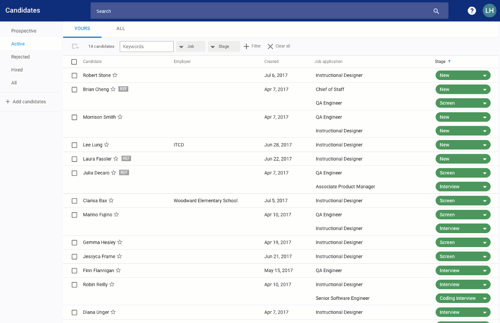 Search
You can click in the search box from any page. A suggestion panel will appear that shows recent searches. Select one of these suggestions to repeat.
Start typing a new search to find matches among Candidates, Jobs, and Users. Click into the bottom part of the panel to run a search within one area, such as Candidates or Jobs.