Communicate with your team
This article is for Admins and members of a Hiring team.
The Hire app makes it easy to unblock time sensitive issues by keeping in touch with your hiring team and interviewers while you're away from your computer. You have a few options for how to communicate with your team directly from your mobile device.
Send a message to interviewers
Messaging interviewers can be useful for making sure they are in sync about things like interview topics or location changes.
Sign in to the Hire app.
Tap Candidates at the bottom of the screen.
Find the candidate you want to communicate about.
Tap the Schedule tab.
Tap Message Interviewers and add your message.
(Optional) If you don't want to include the interview agenda, tap to uncheck "Include interview agenda."
Tap Send.
Your message appears in Updates
Comments. The person you messaged also gets an email and can respond from Gmail (if connected to Gmail and part of the hiring team). A copy of this message and any responses also appear in your Gmail.
Leave a comment for a Hire user by @mentioning
Comments and @mentioning are useful tools for asking questions, checking in with people, asking someone to review a resume, or letting the hiring team know you're ready to schedule interviews.
Sign in to the Hire app.
Tap Candidates at the bottom of the screen.
Select a candidate or Search for them.
At the bottom right corner, tap Add Comment.
Enter a comment and @mention the person the comment is for (example, @Joe Smith).
Tap Post.
The user you @mentioned will get an email and notification to their updates page letting them know you sent a message. If they have comments mentions notifications turned on, they will also receive a push notification to their phone.
Note: @mentioning a user who is not on the hiring team will grant that user permission to view, but not edit, the candidate's profile.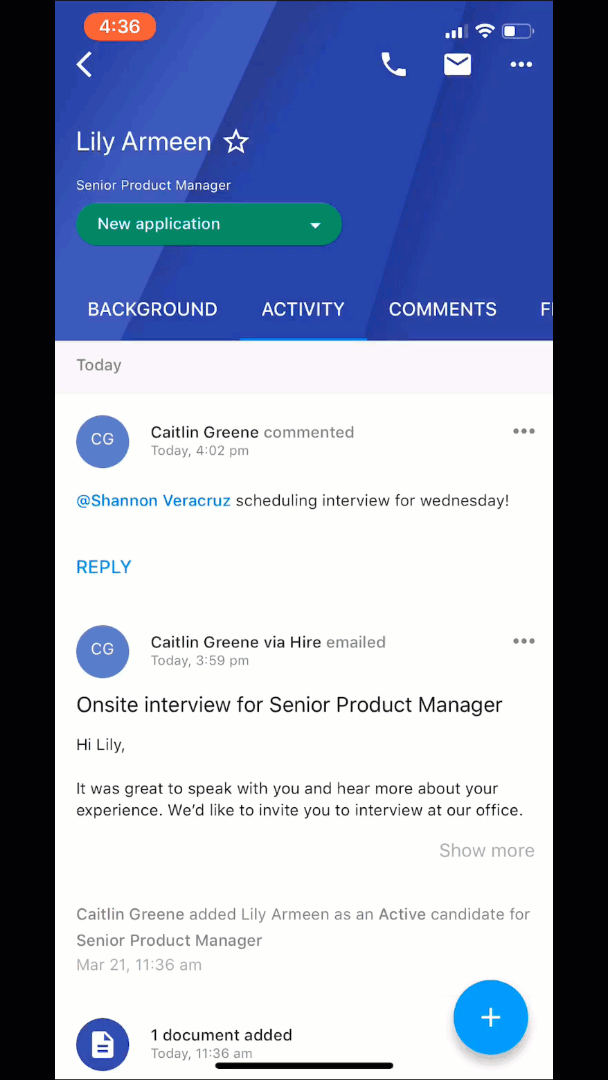 Was this helpful?
How can we improve it?