Create a Helpout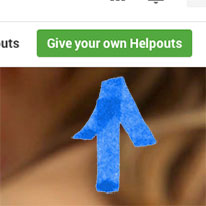 If you're interested in becoming a provider, sign up to receive an invitation code. Once you sign up, we'll process your request. We're processing a lot of requests right now, but we'll try to get back to you as soon as we can.
You can create Helpouts listings, choose the times and dates you're available, and start connecting with people around the world, in just a few minutes.
Here's how you create a Helpout:
Click Give your own Helpouts at the top of the Helpouts window.
Choose a Category for your listing. Categories include: Art & Music, Computers & Electronics, Cooking, Education & Career, Fashion & Beauty, Fitness & Nutrition, Home & Garden, Health, and Other. Make sure you choose the appropriate category for your listing so that people can easily find you. If you're unsure of which category to use, search for similar listings, and see where they're listed. Just because your listing doesn't fit neatly into one of our existing categories doesn't mean that you can't participate in Helpouts. If it doesn't fit into an existing category, you could add it to "Other." There are a number of ways customers can discover your listing and connect with you--through search and a direct link from your website to your Helpout. Also, if enough Helpouts similar to yours are submitted, we'll create a whole new browseable category. Although Helpouts will continue to expand in the future, certain topics are currently restricted from being offered.
Next, write a Description for your listing. Write a strong and informative summary that explains exactly what the session will include and any preparation the customer may need to do beforehand. The first 140 characters of the description are important because that's what will show up on search results so make sure to include your top selling points up front. Helpouts' full list of editorial standards are available in policies. Learn more about how to create a great listing.
Under Qualifications, explain why you're uniquely qualified to provide this Helpouts listing. Include information on your certificates, training, experience, and any other details that show your skills in this area.
Select Free to offer your Helpout free of charge, or Paid to enter the amount you'll charge for the Helpout. You can charge per minute or you can charge a set price for the entire session. If this is your first time offering a paid Helpout, you'll need to set up a Wallet Merchant account. Learn more about Helpouts pricing.
Click Save & Continue.
Next select Choose a photo. You have several options for a photo: upload one, use one from your Google+ profile, or take a snapshot. Photos that are at least 900 pixels wide work best.
In the grey box, click Add a video. You can add a video a few different ways: upload one, use one from your Google+ videos, record a video, or pick one from your YouTube videos.
Click Submit for review when you're done.
Once your listing is reviewed, we'll send you an email notifying you whether the listing was approved or not.